Rangamati's amphibious market!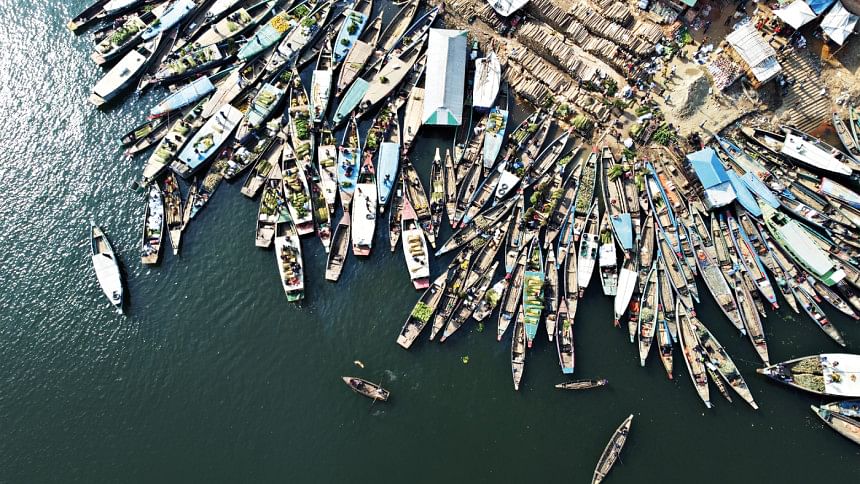 Rangamati's Samata Ghat is more than just a ghat. Situated right beside the Banarupa Bazar, it is a go-to place for people of the hill tracts, who use it to trade and transport their daily essentials.
Traders from around 100 villages under six unions come here on small boats or trawlers to sell their products. But they don't just offload their items at the ghat, rather, they sell from their boats too, which turns the ghat area into a floating market of sorts.
While some traders get down to the ground and sell their items at the market, some choose to sell directly from their boats. The latter type is preferred by those who buy in bulk and then re-sell the goods themselves.
The floating part of the market says a lot of about the locals and their lives. Although it's far from a conventional in the context of Bangladesh, its popularity among locals indicate how normal such a system is for them.
Available at the market are everything, from vegetable and herbs, to fruits, to even clothes.
Traders sling bamboo baskets on their backs to carry their products around the market. These traditional baskets are called "Kalang" by the Chakmas, "Pargin" by the Marmas and "Kabang" by the Tipras.
Prices here are cheaper than the regular market. Traders say they don't just do business for profit, but also look out for people's best interests. They said another reason they can afford to sell at lower rates is that they sell their produce directly here, rather than going through middlemen or other intermediaries.
Traders said their fruit and vegetables are of the highest quality and are grown without pesticides.
The narrow roads of Banarupa Bazar hosts the history and culture of the area's people. This spills over to the floating market as well, which serves as an attraction for tourists or those who  come from other areas.
Whether you're looking for fresh produce, a new piece of jewellery, a unique gift, or just something different to spice up your dishes, Samata Ghat is the place to go in Rangamati.