Port city pedestrians in peril
Lack of foot-bridges forces them to cross road, dodging traffic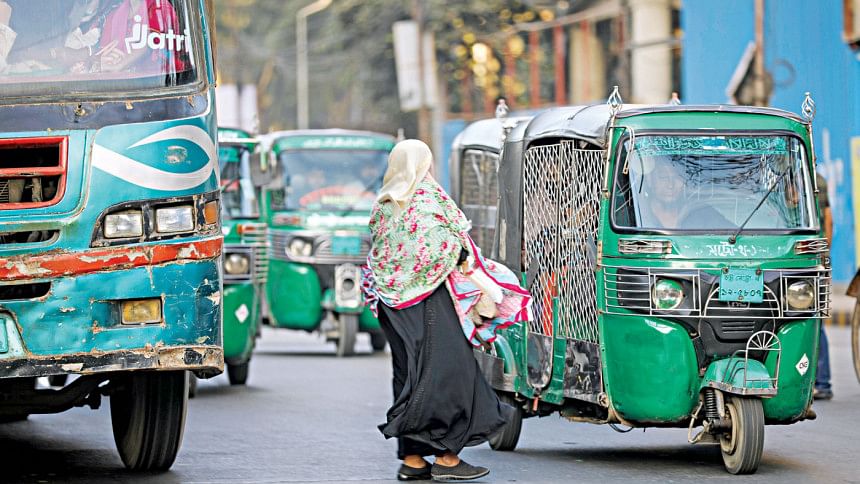 Putting their lives at risk, pedestrians in different intersections of Chattogram city are compelled to cross the road by dodging speedy traffic, as most of these points do not have foot-over bridges.
Road crashes have been increasing day by day in the country, and according to experts, one of the reasons behind this is pedestrians crossing roads unsafely, in absence of foot-bridges. Chattogram city is no exception.
Visiting different areas of the port city and talking to locals, it was known that pedestrians have been suffering due to a dearth of foot-bridges in around 40 areas.
For example, Monwara Begum, a resident of Lalkhan Bazar area, takes her daughter to her school in Jamal Khan area, and so has to cross Lalkhan Bazar intersection every day.
"I accompany my daughter to and from school.To get a transport, we have to cross the very wide Lalkhan Bazar intersection," said Monwara. "It takes at least 15 seconds to cross, and vehicles zoom by very often when pedestrians are in the middle of the road."
"We have to take on this risk every day," she said. "I request the authority to build a foot-over bridge here immediately."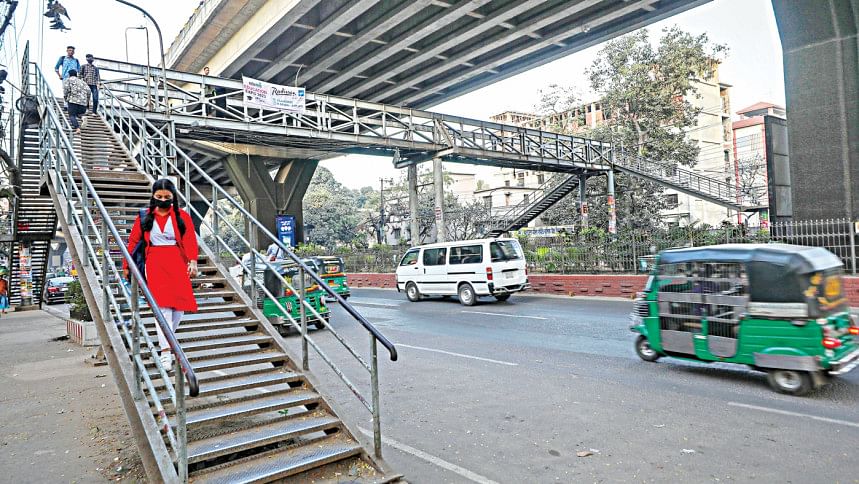 The city currently has 12 foot-over bridges at different intersections. One of these bridges, in Muradpur intersection, remains buzzing with pedestrians from morning to midnight since its installation in 2019, according to Md Asad, who has been selling fruits there for a decade.
"Earlier, people had to suffer to cross the road," he said. "Now, they can do so safely."
Contacted, Mozammel Haque Chowdhury, secretary general of Bangladesh Passengers' Welfare Association, said, "In our study, it was revealed that 9,951 people died and 12,356 were injured in 6,749 road crashes in the country last year."
"Most of the accidents occurred on highways, especially on Dhaka-Chattogram and Chattogram-Cox's Bazar highways," he said. "In city areas, the main reasons for accidents were lack of foot-over bridges and footpaths on busy roads, and vehicles racing to get passengers."
SM Abu Tayab, president of Nirapad Sarak Chai, Chattogram unit, echoed the same.
CCC TO BUILD 38 FOOT-BRIDGES
CCC has taken an initiative to construct 38 foot-over bridges, said sources in the city corporation. The structures would be constructed under a project titled "Development of various roads including Airport Road and important infrastructure development under jurisdiction of CCC".
CCC Chief Engineer Rafiqul Islam said the project, worth Tk 2,491 crore, was approved in the meeting of Executive Committee of National Economic Council on January 4 last year.
"We expect to start the project work in two to three months," he added.