Bayern left fuming over CL 'robbery'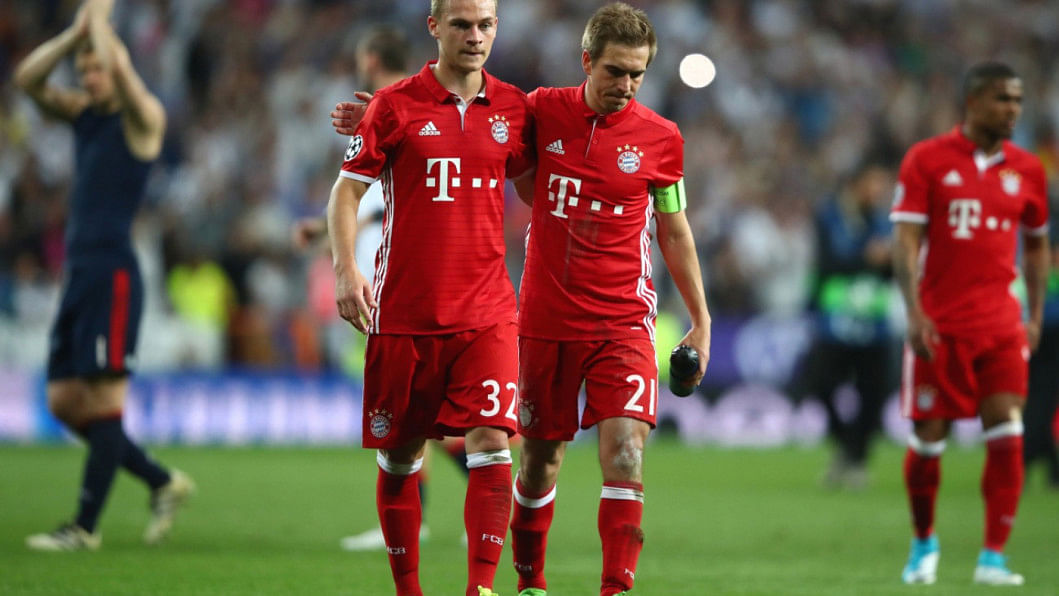 Bayern Munich left the Santiago Bernabeu furious with referee Viktor Kassai and his team of assistants after being knocked out of the Champions League by Real Madrid on Tuesday.
Real Madrid won 4-2 after extra-time to advance with a 6-3 aggregate success but Cristiano Ronaldo was offside for two of his three goals and a harsh dismissal for Arturo Vidal left a fuming Bayern with 10 men.
Chile midfielder Vidal was shown a second yellow card by Kassai in the 84th minute for what appeared a clean challenge on Marco Asensio, tilting the game in Madrid's favour as they entered extra-time trailing 2-1.
Ronaldo scored the next goal in the 105th minute from a clear offside position, and then sent Madrid 3-2 up on the night when fractionally offside.
"When they rob a game from you like that, it's very tough. This error can't happen in the Champions League," said Vidal.
"When it was 2-1 they got scared and the referee started putting on his show. We played with one less man at home and here, too. The referee put us out of the Champions League."
There were other contentious decisions on the night, including Casemiro avoiding a red card for a late foul on Bayern's Arjen Robben when already booked and an offside against Robert Lewandowski in the second half when the Polish striker was well placed.
"It's very harsh, two offside goals, the red card for Casemiro before mine," said Vidal.
"The dressing room is very sad because we really wanted to go through but we have to keep improving and hope these things will not happen again.
"We're very angry, a game with that much intensity can't be decided by the referee."
Bayern coach Carlo Ancelotti agreed with Vidal and said in his media conference that the referees needed video help.
"Arturo's card was not a card and then two goals for Cristiano were offside," said the Italian.
"We are not happy about this. In a quarter-final you have to have a referee with more quality, I think. It's time to introduce videos for the referees."
His Real Madrid counterpart Zinedine Zidane did not want to discuss the refereeing but he claimed Bayern's second goal could have also been ruled offside.
Lewandowski appeared to be fractionally offside in the buildup to Sergio Ramos's own goal, causing panic in the area before the defender prodded the ball past Keylor Navas.
"They have told me their second goal was also offside. It goes both ways, that is football," said Zidane.
"More than the second yellow (for Vidal) or the offside goals, the six goals we scored over the two games mean we deserved to go through in the tie."