Easy access: Aamra aPhone brings free Wi-Fi services to special hotspots around city
Aamra aPhone brings free Wi-Fi services to special hotspots around city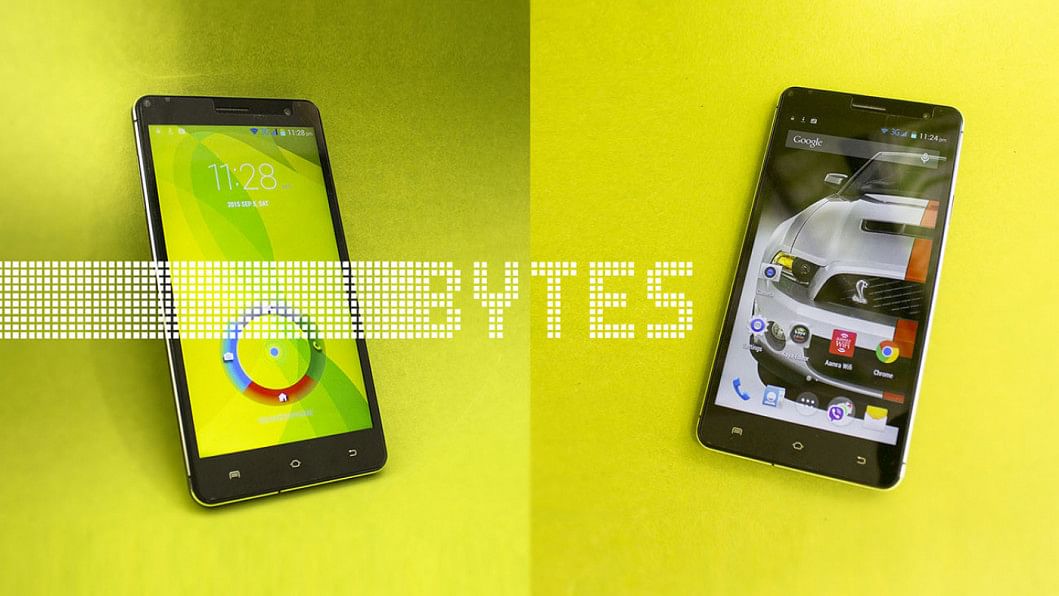 First impressions:
Device sure feels robust. It's solidly put together and doesn't make any creaks or squeaks which would be unacceptable in any smartphone these days. The machine-cut metal band around the edges provides a tactile feedback suggesting toughness. The power button is on the right, easily reached by the thumb for right handers. Toggle switch is on the left. Everything is mostly where it should be, meaning the device goes for a safe design. No revolution there.
While many devices now opt for metal, glass or textured plastic for the back Aamra opted for the rubberised coating that offers significant grip to the big 5.5 inch phone. Clattering along on a rickshaw, struggling to hold a big device, you can use all the grip you can get right up till the muggers catch you. It's slim: 8.6 mm. The heft is just right at 146 grams. It's heavy enough to feel well made and light enough to carry easily. And the rounded edges answer our big questions: Does it pocket? Yes. It slips in and out of a jeans pocket but the rubber back can sometimes stick for its grip.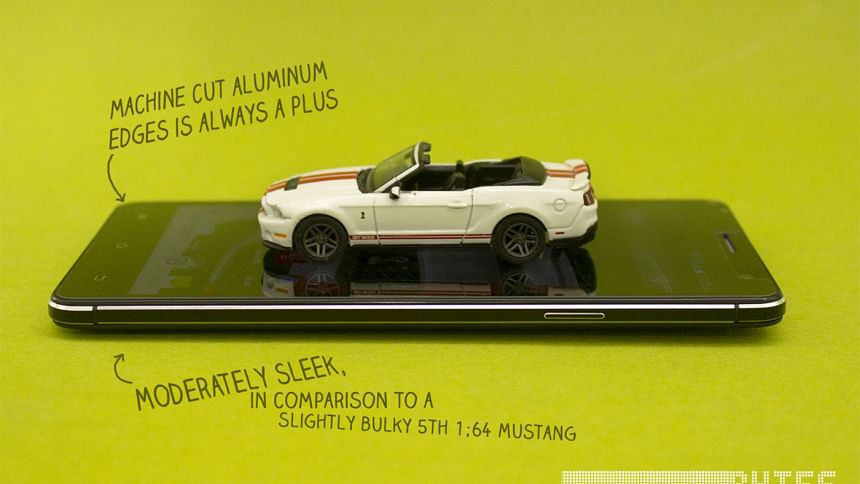 Software:
Turn it on, you get greeted by a skinned version of Android 4.4.2. Which is a bit of a downer. Handsets in the 10-15k range should come with at least the next to latest software. It's a no brainer: people want the latest. While 4.4.2 brought massive improvement to Android users, Lollipop simply allowed better usage of RAM so that devices with less juice could run smooth. Luckily, this isn't a low powered device.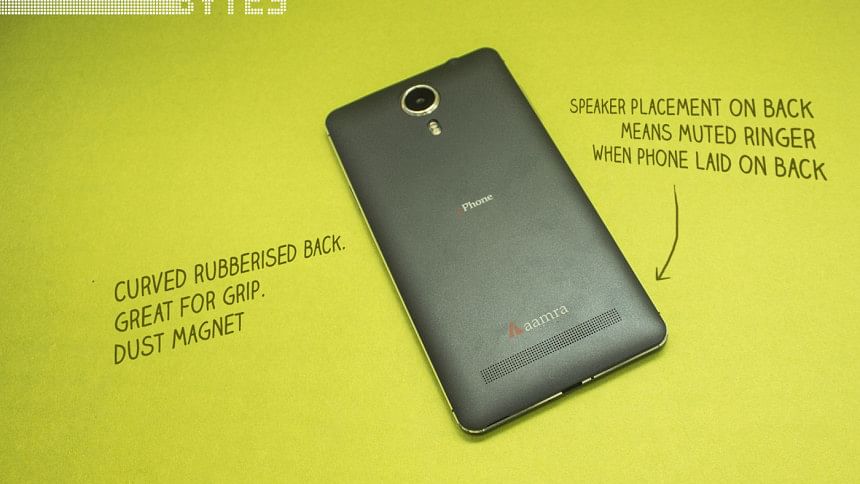 How is it powered?
A 1.4 GHz octa-core processor and a Mali-450MP4 tops the spec sheet. You get 2GB RAM and 16GB of internal memory with an expandable option of up to 32GB. But that's not all, you also get an additional 100GB of cloud space on Aamra if you buy the bundle offer. That makes it all the space you could need right now even if you're planning to operate a mini cinema theatre.
What about gaming?
It's a great device for casual gaming (Off-Road Legends, Spiderman Unlimited) and some heavier ones (Mortal Kombat). It returned a pretty respectable score on AnTuTu of 28349 which is higher than that of Xiaomi Redmi Note and HTC One.  
Which brings me to the skin. While the apps run just fine and the games turn out a pretty decent frame rate, the user interface can be a bit choppy at times. The solution is to go for a custom launcher and that smoothed things out.
Does it shoot?
It has a decent 13MP camera for the rear and a 2MP front unit. Colour reproduction is mostly accurate and the pictures come out sharp as long as there is plenty of light. Two LEDs make sure night-time shots are dazzlingly bright if you really, really need to blind someone while taking their pciture. You'll face a slight shutter lag as you tap the button but if you time it right, the pictures come out very nice indeed.
Will it last?
1900mAh battery doesn't sound big but I've gotten plenty of standby time for the first one week. On average usage, I managed to squeeze out an entire day's worth of service from one charge. It typically includes full Wi-Fi support, phone calls, email checking and about half hour's worth of gameplay.
SPECS
Display: 5.5", IPS OGS, 1280*720
Camera: Rear-13.0 MP with Dual flash, HDR; Front- 2.0 MP
OS: Android 4.4.2
CPU: MTK6592M 1.4GHz Octa Core with a low-power Cortex-A9 Arch.
GPU: Mali-450MP4
Features: Web-Based TV, Cloud storage, free Wi-Fi access, gesture control
ROM: 16GB, RAM: 2GB
Battery: 1900 mAh
Price: Tk. 13,800/-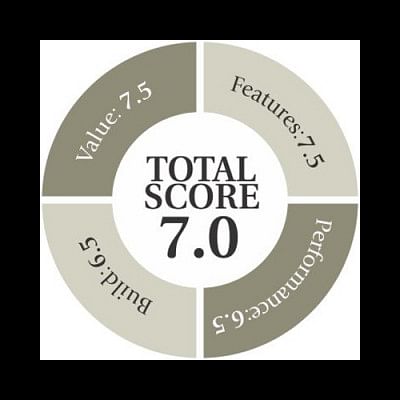 VERDICT
 As a first device, it is nothing revolutionary. Aamra took the safe route and created a device that will please most users because it packs plenty of power, looks decent and has a capable camera. The HD display is crisp and manages to render movies and text perfectly. Their big selling point is the free Wi-Fi access to over 150 locations currently that can be availed only using an Aamra phone. This feature, along with the cloud-storage facility, creates a great value proposition. After all nothing is better than sitting, eating some good food and uploading a picture of your beautifully edited lunch. If Aamra can keep this up and make sure future devices come with the latest OS, they'll have a serious edge to their expansion.
Review and photos:
Ehsanur Raza Ronny