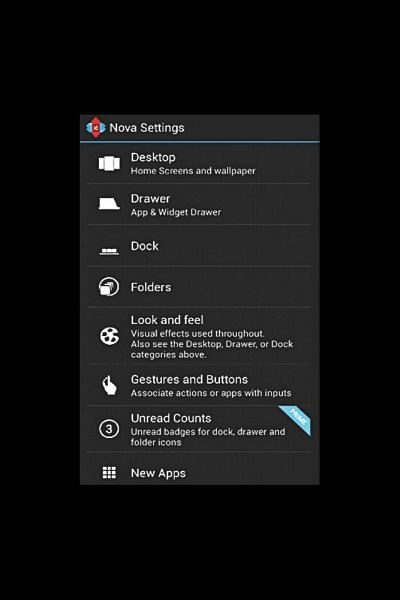 Name of the App: Nova Launcher
Developer: TeslaCoil Software
Platforms: Android
Size: 5.93 MB
Last Updated: January 8, 2016
Price: Free
Our Rating: 9/10
"Nova Launcher may be the best thing that ever happened for Android"- androidcentral
While being the best app out there is subjective, being the best at what it does, is not. Nova Launcher is an Android exclusive app that lets you customize your interface as you wish.
First thing first, the app is very lightweight and completely hassle-free. All you need to do is download it and set it as the default launcher when it prompts and you're set.
The entire interface is very easy to navigate and doesn't hit you with millions of options. You can customize everything from your dock to app drawers to transition effects, icons and animations. However, it does not let you make changes to the pull-down menu.  
The app can be downloaded for free but there's a Prime version that is up for purchase and it adds more options such as custom gestures and icon swipes. One of the best things about Nova is that it doesn't slow down your phone. There's no change in performance yet it's a very powerful app if you want things to look and act exactly how you desire.