Wheat farmers to get price support
Govt starts purchase from next week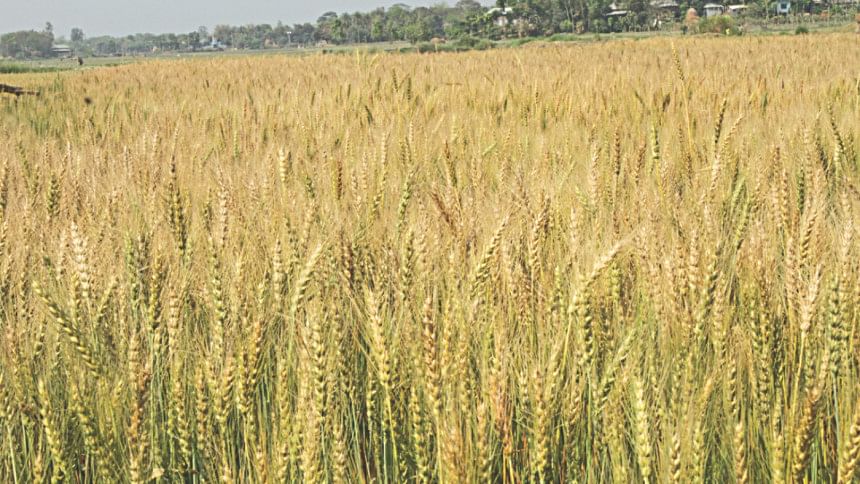 The government will start buying wheat from next week at Tk 28 each kilogram to give price support to growers harvesting the grain.
The price will be 3.7 percent higher than the estimated cost of production of Tk 27 a kg, according to a statement from the food ministry.
The government will buy two lakh tonnes of wheat and the purchase will begin from April 10 and will continue until May 31, said Food Minister Qamrul Islam after a meeting of the food planning monitoring committee.
The move comes after farmers called for a good price for their just-harvested wheat, which is now trading at a discounted level than last year.
Farmers planted the cereal on 4.89 lakh hectares of land last winter, up 11.89 percent from a year earlier, according to the Department of Agricultural Extension.
The official production target for the grain was 14 lakh tonnes, but Islam said the output will be 13.98 lakh tonnes, as bad weather, particularly hailstorm, affected crop in many areas.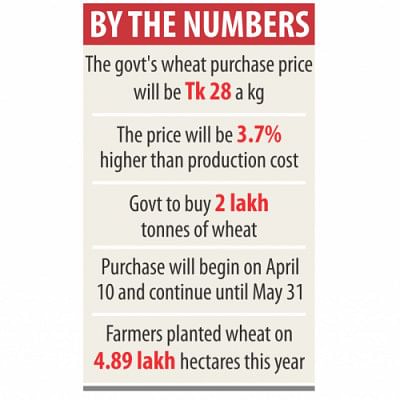 Last year, the Directorate General of Food bought more than two lakh tonnes of locally produced wheat at Tk 28 per kilogram against the production cost of Tk 26 each kg.
"We will buy the wheat from farmers. So we hope they will be benefitted from our purchase," said Foiz Ahamed, director general of DG Food.
Mohammad Ashraf Sarker, a farmer in Rajshahi district, said it would have been better, had the government announced the purchase decision 10 days ago.
"Even after that, we will be benefitted. Now I can sell my produce at better prices," he said by phone.
He said wheat prices edged up from this week and are hovering between Tk 750 and Tk 800 each maund.
Bangladesh consumes nearly 45 lakh tones of wheat a year and it has to meet two-thirds of its annual requirement through imports due to inadequate domestic production.
However, both acreage and local production have been rising for the last couple of years as farmers received good prices and higher yields.  
Wheat imports rose 27 percent year-on-year to 30.71 lakh tonnes between July 1 last year and March 27 this year, and private traders accounted for 86 percent of the total wheat import, according to food ministry data. 
Islam also said the government will sell food grains at fair prices to 50 lakh poorest families from July this year. It will also start open market sales at the union level soon, he added.