VAT law delay to impact economic growth: IMF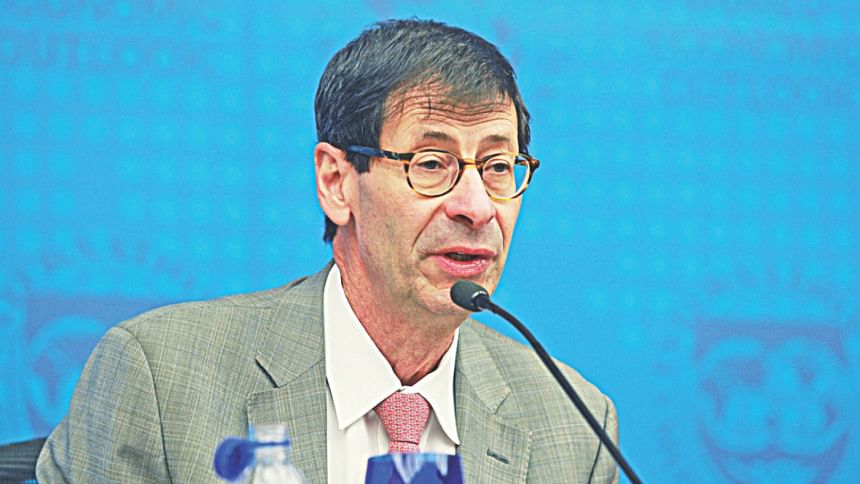 Bangladesh will face challenges in maintaining its current growth momentum in fiscal 2017-18 due to the deferment of the implementation of the new VAT law for two years, said the International Monetary Fund.
"The authorities' decision to delay the launch of the VAT that was supposed to improve the weak tax revenue collection will make achieving the growth more difficult," said the Washington-based multilateral lender in its updated World Economic Outlook.
The report was released yesterday in the Malaysian capital by IMF's Chief Economist Maurice Obstfeld.
The government at the eleventh hour shelved its bid to enforce the VAT and Supplementary Duty Act 2012 from July 1 in the face of pressure from a section of businesses and lobby groups.
Framed at the prescription of the IMF to boost domestic revenue collection, the law seeks to impose a uniform VAT rate of 15 percent, doing away with the existing multiple rates.
Bangladesh though will continue to maintain its solid macroeconomic performance this year, according to the report.
Output growth is projected to remain close to current levels and inflation is broadly in line with Bangladesh's target.
But maintaining the past growth performance will become increasingly challenging over the medium-term without a significant increase in both public and private investment.
The government framed fiscal 2017-18's budget to achieve 7.4 percent GDP growth and contain inflation to 5.5 percent.
The economy registered 7.24 percent GDP growth last fiscal year, the second year in a row it managed to do so.
The IMF suggested the government increase the fiscal space, which shows flexibility of a government in its spending choices for higher public investment.
It also recommended development of the country's capital markets for financing long-term private investment. The IMF kept its global growth outlook unchanged at 3.5 percent for 2017 and 3.6 percent for 2018.
"The unchanged global growth projections mask somewhat different contributions at the country level."
The IMF though cut down its growth projection for the US economy on assumption that fiscal policy will be less expansionary than previously anticipated. It, however, revised up the growth projections for Japan and the European Union.
China's growth projections have also been revised upwards to reflect a strong first quarter of 2017 and expectations of continued fiscal support, the IMF said.