Used cars to be dearer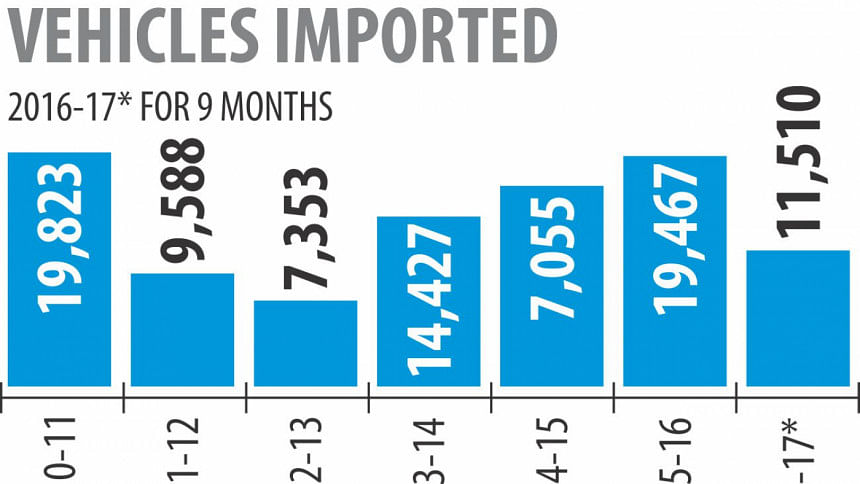 The middle-class consumers have another bad news: they will have to pay more to buy a reconditioned car next fiscal year due to a cut in the depreciation rate used to determine the vehicle's value.
Depreciation is the amount of value an automobile loses over time, with the decline in value faster for new cars than for old ones. The depreciation rate impacts a reconditioned car's price directly as tax is applied on the discounted value.
As is practice, reconditioned cars of typically 4 and 5 years of age are brought to Bangladesh from Japan, the depreciation for which is taken to be 45 percent. The rate would come down to 40 percent from next fiscal year.
Take, for instance, a reconditioned car that has been used for four years in Japan. The car was sold off at $10,000 and brought to Bangladesh.
The tax on the car would be determined by accounting for 45 percent depreciation, meaning the price of the car would be considered to be $5,500. Now after the cut in depreciation rate, the price of the car would be $6,000.
A tax of 129 percent is imposed on a car with engine capacity of 1,500 cubic centimetres. So, the tax for the car would be $7,740 under the new depreciation rules, up from $7,095 currently. In other words, the car's price would be $645 or Tk 51,600 higher because of the cut in depreciation rate.
"It's a suicidal decision," said Habibullah Don, president of the Bangladesh Reconditioned Vehicle Importers and Dealers Association (BARVIDA).
Bangladesh's car market is dominated by reconditioned cars, so the move to cut the depreciation rate will make car ownership difficult for the middle-class.
"The government's revenue from this segment will fall," he added.
Some 19,467 reconditioned vehicles were imported in fiscal 2015-16, fetching nearly Tk 2,600 crore in taxes for the state coffer, according to BARVIDA.
In the first nine months of the fiscal year, 11,510 cars were imported and nearly Tk 1,600 crore collected as taxes.
The prices of popular models of Toyota -- Allion, Fielder, Axio, Premio -- will go up by Tk 50,000 to Tk 1 lakh, said Arif Khan Bipu, partner of Trade Stone, an importer and seller of reconditioned cars.
"Car sales will be badly affected because of this," said Abdul Mannan Chowdhury Khosru, a former president of BARVIDA.
In a parallel move, the government has cut the supplementary duty on fuel-efficient and environment-friendly hybrid cars following demands from importers and sellers. Buyers have to pay 35-40 percent more to purchase a hybrid car than a reconditioned one. So with the latest move, the prices of hybrid cars are expected to come down substantially.
For hybrid cars with engine capacity of up to 1,600cc, the SD has been lessened to 25 percent from existing 30 percent.
The SD has been set at 45 percent for hybrid cars with capacity of 1,601cc to 2,000cc, down from 60 percent at present.
For 2,001cc to 3,000cc hybrid cars, the SD has been brought down to 60 percent from 150 percent. SD of 100 percent has been imposed on 3,001cc to 4,000cc hybrid cars.
The government should have taken this tax measure long before to encourage the use of environment-friendly cars, said Khosru, also the owner of Nippon Motors, an importer and seller.
"Now we can import reconditioned hybrid cars," he added.