Highlight heritage to foreigners: President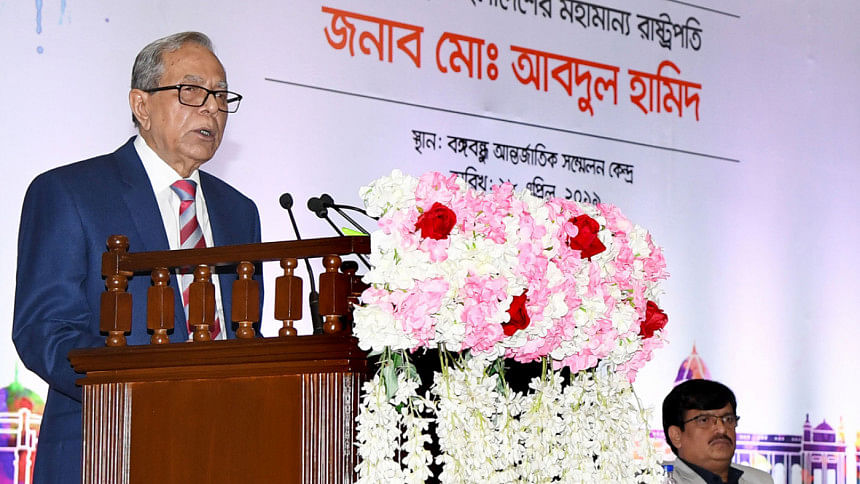 President Abdul Hamid on Thursday urged the authorities concerned to highlight Bangladesh's heritage along with tourist spots in a smarter way to attract foreign visitors.
He said Bangladesh is rich with natural and historical sites that uphold our glorious past from century to century.
"Tourist spots, including our heritage, will have to be highlighted in a smarter wayto the foreigners," President Hamid said."Our embassies in different countries along with the Ministry of Civil Aviation and Tourism will have to play an active role in this regard."
The heritage, natural beauty, rituals, and versatile life style of Bangla deeply attract the tourists, he said at the inauguration of 9th Bangladesh Travel and Tourism Fair organised by Tour Operators Association of Bangladesh (TOAB) at city's Bangabandhu International Conference Centre.
President Hamid reminded everyone that foreign visitors are our guests and urged all to ensure that they can travel to Bangladesh in a relaxed and pleasant environment and get fascinated by hospitality.
He noted that the number of deserving countries for On-Arrival Visa has been increased while Bangladesh missions provide e-visa in the fastest possible time, facilitating visa procedures.
The President said he was elated to learn that Bangladesh has been elected as the new Chairperson for the year 2018-2019 at the 10th Islamic Conference of Tourism Ministers (ICTM). Dhaka city has been declared as "Dhaka, the OIC City of Tourism" for the year 2019.
"To make foreign tourists interested in Bangladesh, such type of fair will make a positive contribution. It'll also improve the relations with the friends flourish the tourism industry and enrichthe national economy," he said.
Mentioning the formation of Bangladesh Tourism Corporation in 1972 by Bangabandhu Sheikh MujiburRahman as the forerunner of today's tourism development in Bangladesh, he said, "Prime Minister Sheikh Hasina has been working for the development of the tourism industry just like Bangabandhu did."
Mahbub Ali, the new State Minister for Civil Aviation and Tourism spoke as special guest.Chairman of the fair and TOAB President TaufiqUddin Ahmed presided over the opening ceremony, attended, among others, by secretaries to the President.
Organisers said 10 countries, including host Bangladesh, Nepal, Bhutan, Cambodia, Thailand, Vietnam, Sri Lanka, the United Arab Emirates, The Philippines and the Maldives apart from local tour operators, travel agencies, airlines, hotels and resorts, are taking part in the three-day fair.
As many as 140 business organisationsare participating, organisers said. The entry fee is Tk 30 per person and it will remain open from 10am to 9pm each day.