A tool to create jobs, cut poverty
Analysts shed light on the benefits of social business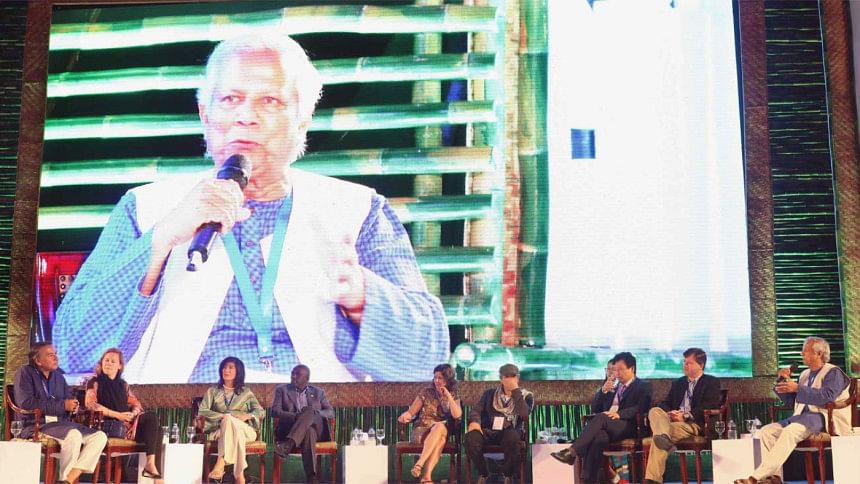 Social business has created hopes of eliminating poverty from the world by generating employment, speakers said at a discussion yesterday.
Many countries want to adopt the idea of social business, a brainchild of Nobel laureate Prof Muhammad Yunus, they said, while sharing their experiences of promoting social business in their countries such as the USA, China, France and Germany.
They spoke at a plenary session on "sharing experience -- social business movement around the world" as part of the programmes of the sixth Social Business Day at Bangabandhu International Conference Centre in Dhaka.
Grameen Danone, a social business venture established in 2007, is fighting malnutrition in Bangladesh through production and distribution of micronutrients-fortified and affordable yoghurt, said Corinne Bazina, general manager of Danone Communities.
Grameen Danone also offered jobs to local farmers and opened a new window for women by creating their own sources of income and thus contributing to poverty reduction, she told the session moderated by Yunus.
The main challenge in a social business venture is to achieve financial sustainability, she said, adding that the success of Grameen Danone has inspired her to promote social business.
Currently, 10 social businesses are supported by Danone Communities across seven countries, including Bangladesh, India, France and China.
"Many countries want to replicate the business model," she said.
Robert E Johnson, president of Becker College, USA, was a bit excited as he was speaking just a few minutes before signing an agreement to set up a centre of Yunus Social Business at his college.
"We are aiming to promote social business in the USA by creating social business movement among the college students," he said.
Gao Zhan, chief executive officer of Grameen China, said, "We need the Grameen model in China to reduce poverty."
He said they plan to launch two new projects this year -- one to create a social business fund to support the poor. Yunus will visit China before October to launch the schemes.
Alex Counts, president and chief executive officer of Grameen Foundation, USA, said though some researchers are trying to undermine the ideas of microcredit and social business, many countries are showing their interest.
Mahfuz Anam, editor and publisher of The Daily Star, said the idea of social business is not getting much importance in the media, as the industry has less understanding of the business model.
"We have covered it, but without going to the depth of the idea," he said. "Microcredit is the issue of the poor, but social business is the issue of civilisation and it's much wider."
Andrea Jung, president and chief executive officer of Grameen America, said though the USA is the richest nation in the world, the country still has poverty and unemployment.
"Our goal is to promote social business in the USA, where big companies like Apple and General Electric are doing business."
Some 50,000 clients in 11 cities of the USA have so far been benefitted through the microcredit programmes of Grameen America, she said.
Hans Reitz, founder and managing director of Grameen Creative Lab, Germany, said the most profitable companies in the world are not aware of the social business model.
They need to be connected and encouraged to adopt the idea, he said, adding that the seventh Global Social Business Summit in Berlin this year will focus on spreading awareness and fostering discussions and collaborations for new social business ventures.