Brief incoming for blocked SIMs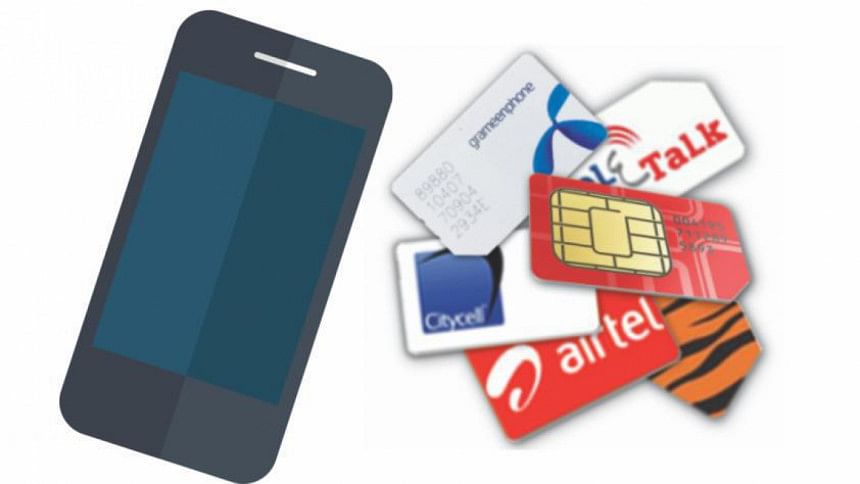 Subscribers using biometrically unregistered SIM cards will have their outgoing calls blocked after today, while incoming calls are likely to stay active for "a few hours", according to a top official of a telecom operator.
- Telecos set to count Tk 600cr losses
- 'Technical issue' to keep incoming active
After midnight, the deadline that was previously extended to biometrically re-register subscriber identification module (SIM) cards, all unregistered connections are expected to be blocked.

Also READ: About 3cr SIMs to be suspended on June 1

And with it, telecom operators are set to count about Tk 600 crore in losses as they will block around 3 crore active subscriptions countrywide with the government denying to be flexible.
"There will be a technical issue that will keep the incoming calls active after block," Ekram Kabir, vice president of Robi, one of the six telecom operators, told The Daily Star.
The mobile phone operators will inform telecom regulator Bangladesh Telecommunication Regulatory Commission (BTRC) about it, he said.
Trend of data usage will face a big setback as around 50 lakh SIMs currently used only for data will also be blocked, a senior official of Robi told The Daily Star.
Until May 28, there were 10.09 crore biometrically registered SIMs, while the number of active connections is 13.19 crore, Tarana Halim, state minister for telecom, said said on Sunday.
Industry leaders and even the telecom minister acknowledged that it may negatively impact the operators' revenue and ultimately the state coffer.