About 3cr SIMs to be suspended on June 1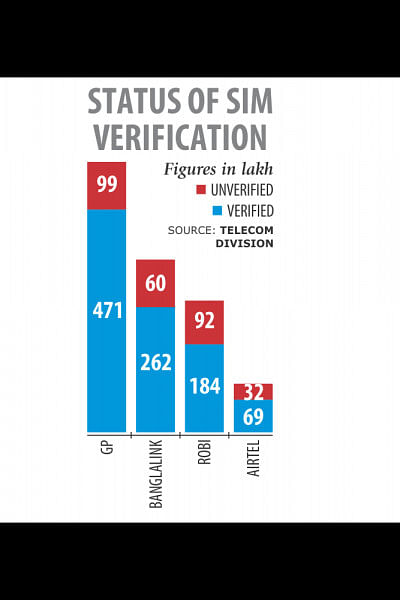 Some three crore active mobile connections may be suspended on June 1 as those are yet to go through the biometric re-registration process, with just two days left for the deadline.
Industry leaders and even the telecom minister acknowledge that it may negatively impact the operators' revenue and ultimately the state coffer.
As of May 28, there were 10.09 crore biometrically registered SIMs, while the number of active connections is 13.19 crore, said Tarana Halim, state minister for telecom, at a press briefing at her office yesterday.
"It was obvious, and there is no way to avoid this. But at the same time we will try to increase income from other areas of the sector," said Tarana, in response to a query. 
However, she is hopeful about a rise in the number of data users, and so the industry may not incur a loss.
The finance ministry also expressed concern that the government's revenue would shrink if crores of SIMs are deactivated. Telecom is a leading earning sector for the government.
Tarana said the SIMs that are currently being used for extortion and illegal call termination, and to commit other crimes will not come under the re-registration process.
As of May 28, Grameenphone re-registered 4.42 crore active SIMs and sold 30 lakh new SIMs under the biometric process.
The operator has another 99 lakh SIMs that are yet to be registered.
Grameenphone also assumes that a large number of SIMs will not be re-registered, which will impact their revenue.
"We will definitely see our revenue drop," said Mahmud Hossain, chief corporate affairs officer of Grameenphone, after the meeting.
"But the important thing here is that, of the total unregistered SIMs, a huge number are data SIMs. And if those SIMs are blocked, it will impact the digitisation process as well."
More than 25 lakh data SIMs of Grameenphone are yet to be re-registered.
Banglalink was yet to re-register 60 lakh SIMs till Saturday. Robi has 92 lakh and Airtel has 32 lakh unregistered SIMs.
Out of 43 lakh active SIMs of Teletalk, it still has 25 lakh unregistered; meanwhile, Citycell has 6 lakh unregistered SIMs out of a total of 7.8 lakh.
Tarana reiterated that all unregistered SIMs must be suspended on June 1; the operators said they are ready to do so.
"Those who will fail to complete biometric re-registration by the May 31 deadline will not be able to use those SIMs for the next three months," Tarana said.
After those three months, the original users will be able to rebuy their SIMs.
The government earlier extended the deadline for biometric SIM re-registration by a month after a third of the mobile phone subscribers could not complete the process within the given time that ended on April 30.  The deadline had been extended considering public sufferings following high traffic in the national identity database (NID) server, which slowed the process.
People can call the short code, 16103, for help if they face any problem with their NID cards, the state minister said.