Tax fair ends with record Tk 2613cr collection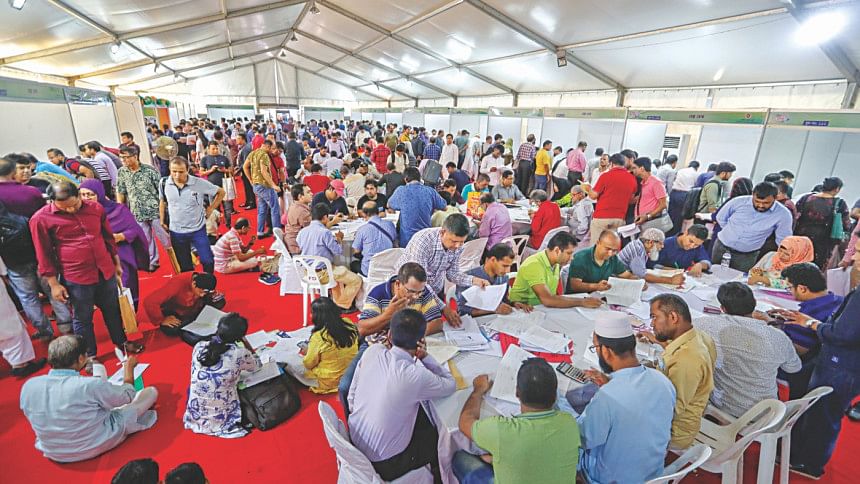 The week-long tax fair ended today amid huge participation of taxpayers enabling the National Board of Revenue (NBR) to log a record Tk 2613 crore taxes.
The collection was 6 per cent higher from Tk 2,468 crore a year earlier, said the NBR in a press release.
Taxpayers from different professions filed 6.55 lakh returns at the fair, 34 per cent up from 4.87 lakh of the previous year.
The NBR said 18.63 lakh people received tax-related assistance from taxmen from the fair that took place for in all divisional cities since the first November 14, and for four days at district towns.
This was the tenth edition of the tax fair. The tax authority has been organising since 2010 to raise awareness on the necessity of paying tax for national development and motivate more people to start the practice in a country, where the tax-to-GDP ratio is 9.2 per cent, one of the lowest globally.
Since its inception, the tax fair has gained popularity as it gives an opportunity for people to submit income tax returns within a short time and without visiting any tax offices.
At the fair, 32,961 taxpayers signed up for Taxpayer Identification Number (TIN).
Today, 21 banks and financial institutions and insurance companies under the Large Taxpayers' Unit (LTU) handed out pay order of Tk 293 crore to NBR Chairman Md Mosharraf Hossain Bhuiyan, said the press release.
Besides, former Communications Minister Syed Abul Hossain paid Tk 30 crore tax at the fair. Hossain is the highest individual taxpayer at the LTU, said the press release.
Despite the end of the show, individual taxpayers will be able to file their returns until November 30, the last day of submission also termed as Tax Day.
"We have directed field offices so that taxpayers can furnish returns and pay tax in the festive mood like fair," said Bhuiyan.
"We are taking steps to expand the tax net.
NBR expects that total tally of tax return submission will increase to nearly 30 lakh at the end of the current fiscal year, from nearly 22 lakh the previous year, which is just 1.33 per cent of the population.
Now, the number of TIN holders is more than 44 lakh, up from nearly 19 lakh three years ago.