Startups hold bright prospects
Entrepreneurs say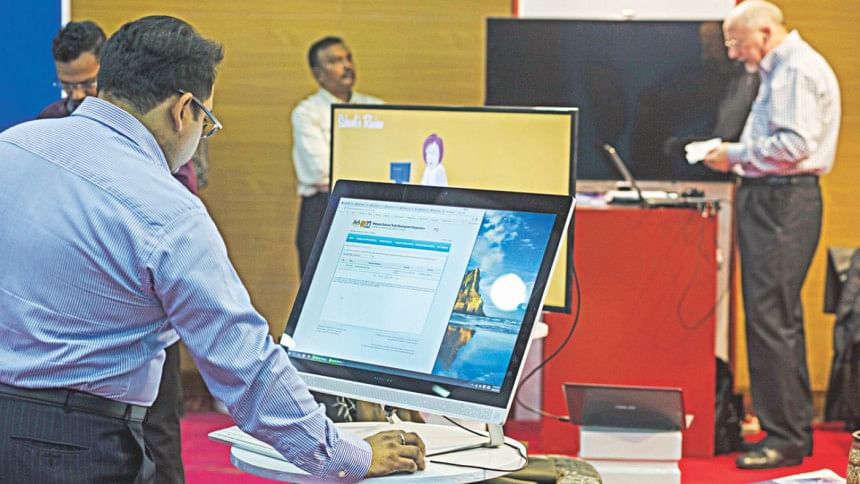 Bangladesh is a land of opportunities for ICT business since startups are still facing less competition in the market, said a number of entrepreneurs yesterday.
They said the country is confronting many challenges, but these, in fact, have created the opportunity for startups to grow.
"Bangladesh is a land of opportunities for startups and that's why we did not wait long to invest in this market," said Yoriko Ueda, chief executive officer of Venturas Ltd, an personalised online learning platform for local students.
"We had been facing huge challenges when we started our service a few years back. But I think challenges create opportunities," said Zia Ashraf, CEO of Chaldal.com, the largest online grocery seller in Bangladesh.
The entrepreneurs were addressing a seminar titled "StartUP: Zero & One" at the Bangabandhu International Conference Centre on the opening day of the BASIS SoftExpo 2018.
When Chaldal launched its business in 2013, the ecosystem was horrible and service providers were not willing to help, Ashraf added.
"Now we see some improvements in different segments and opportunities have also been created."
Chaldal handles about 1,500 orders every day in the grocery segment alone. Kamrul Hasan Emon, co-founder of ride-hailing service Ezzyr, said in general 90 percent startups would not taste the ultimate success, while only less than 10 percent would succeed.
"So, idea and marketing is a big factor for this kind of business." Adnan Imtiaz Halim, CEO of Sheba.xyz, a local household service marketplace, said investment is not a big factor for startups; it is the idea that matters most.
"As there are lots of problems around us, a company can become successful by solving these problems and this is the beauty of startups."
Hussain Elius, CEO of popular ride-hailing service Pathao, said partnership is a key factor for running startups, but some people are uncomfortable with the presence of others in the business.
Syed Almas Kabir, president of the Bangladesh Association of Software and Information Services (BASIS), said Bangladesh's youth has huge potential to be successful. "There are many ideas around and now they only need mentorship."
Kabir suggested companies to look at merger and acquisition option if one can't thrive single-handedly.
Mostafizur Rahaman Sohel, a director of the BASIS and the convener of the exposition, moderated the session. Asif Ahnaf, president of the e-CAB Youth Forum, also spoke.
Nayeem Ashrafi, a senior consultant of a government startup financing project, said they have a huge amount of funds and are providing mentorship to different startups.
If only a single company becomes a hit, it will be enough for the country, he said.
The Startup Bangladesh project has so far invested Tk 37.50 crore in a number of local startups.