Women nation-builders are modern-day heroes
We must create an enabling environment for women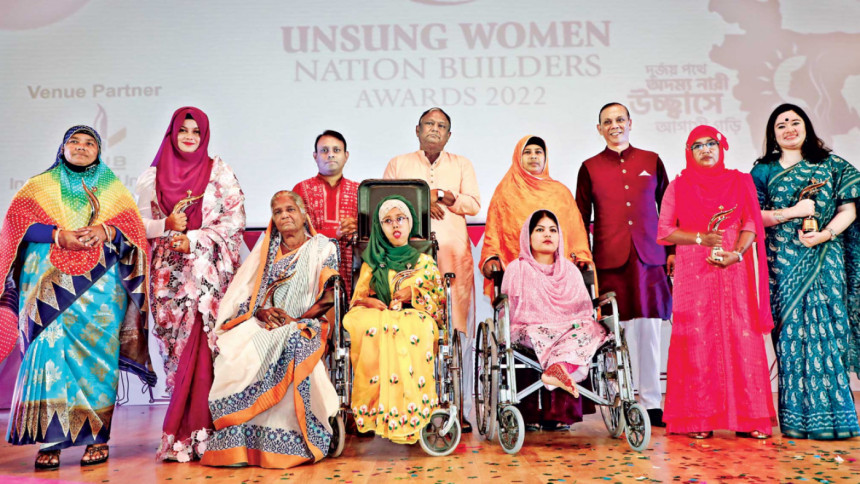 Despite attempts by different forces in society to keep women confined within the four walls or traditional gender roles, many have broken the glass ceiling and become self-reliant. These courageous women have shown that women and girls can do anything if allowed to take control of their own lives. We're glad to see that seven such fighters were recognised on Friday at the sixth edition of the "Unsung Women Nation Builders Awards", an initiative of The Daily Star and IPDC. We hope that the stories of their courage and resilience, entrepreneurial initiatives as well as contributions to building a better Bangladesh will inspire others to follow suit.
At the event, Commerce Minister Tipu Munshi, who gave out the awards, mentioned the multifaceted challenges that women and girls face while following their dreams or trying to stand on their own feet. Women are no less capable than men, he said, reminding all that the prime minister is a great advocate of women taking up important roles in various professions, including in the government.
Each of the women chosen for the award have shown unique potential. One of them—unable to walk, move her hands or speak clearly since her birth—went on to beat all the odds to become a successful entrepreneur in Bogura. Through her Facebook page "Rainbow", she sells hand-embroidered products like sarees, cushions and bedcovers which people from more than 18 countries now buy. Another woman, who sold newspapers to get by after her father's death, is an elected union parishad member in Pabna's Chatmohar upazila. Yet another woman, from the Birganj upazila of Dinajpur, challenged the long-held notion of professions in which women could work. After her husband abandoned her and their two children, she took up butchery and built a home in her village from the proceeds.
These are just some examples of what women, even those with disabilities who are particularly vulnerable in our society, are capable of doing despite facing numerous constraints and barriers. Their hard work, dedication and resilience are truly encouraging. Imagine how women and girls—who constitute half of the population—could transform our country if the right environment could be created for them with their rights ensured and their talent unleashed. Here lies the challenge: Families, social institutions, business houses and the government all must do their part to create an enabling environment for them. Women, especially those with disabilities, need the space and freedom to grow personally and academically, as well as proper policy support to pursue their career or business including bank loans on soft terms.