Accelerate Bangladesh, country's first virtual health-tech accelerator, launched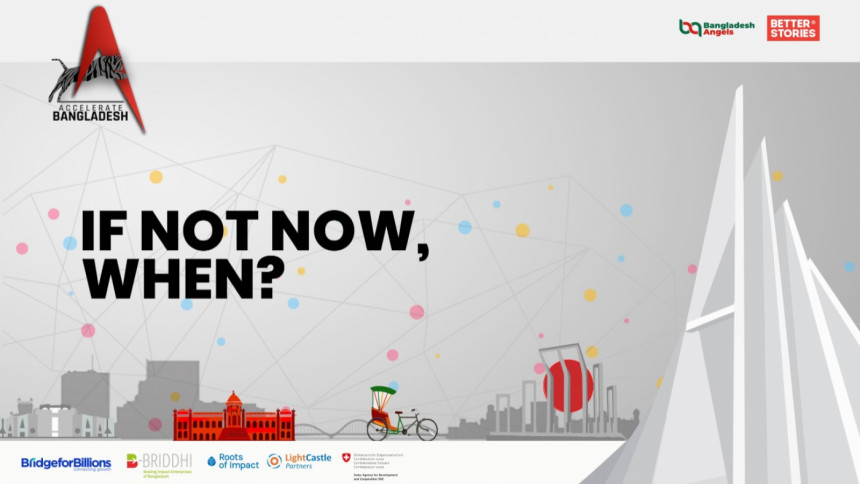 Accelerate Bangladesh, an investment readiness programme by BetterStories Limited and Bangladesh Angels Network in collaboration with Bridge for Billions and Biniyog Briddhi, has been launched via a virtual webinar.
The more than 12 weeks-long programme aims to help early stage startups with considerable traction to unlock investments worth USD 50,000–USD 100,000 within a period of 12 to 18 months, says a press release.
The launching ceremony was held over virtual streaming platform Zoom at 3:00pm (GMT+6) on September 9.
Many startup enthusiasts and entrepreneurs attended the event. Nirjhor Rahman, CEO of Bangladesh Angels Network, and Minhaz Anwar, Chief StoryTeller, BetterStories Limited, co-moderated and introduced the programme.
The opening remark was given by Better Stories Limited Director Selima Hossain Allen. 
The chief guest of the event was Jatiya Sangsad Speaker Dr Shirin Sharmin Chaudhury, MP.
The keynote speaker of the event was Vineet Rai, founder and chairman of Aavishkaar Group, an impact investment platform impacting millions of people in Asia and Africa using an entrepreneurship-based development approach.
In their respective speeches, both the guests spoke of the importance of such initiatives to promote impact entrepreneurship, especially in a pandemic situation.
"Particularly in the post-pandemic scenario, we all want to recover the economy and the damages that are caused by the pandemic. In that case, the sectors that are crucial for us in boosting our economy are very necessary. Among those sectors, entrepreneurship is one of our vital components and we must put in all initiative to ensure the growth of its fullest extent," Dr Shirin Sharmin said.
"Impact is created when you are able to convert unviable ideas into impactful profitable businesses. You require innovation and technology to establish that. To add, there is a tremendous need of innovation in the ecosystem of Bangladesh. It is important to measure the impact that is being generated rather than being busy in making the impact." Vineet Rai said in his speech.
Tina F Jabeen, Managing Director of Startup Bangladesh; Sajid Rahman, Co-founder and CEO of Digital Healthcare; and Sanchayan Chakraborty, Partner, Aavishkaar Group were panelists at the session.
"There is a huge crisis in public health, crisis in the economy, crisis in the livelihood and survival of people and the various social aspects right now. We are going to invest more in companies which are working in providing essential and critical services. With that in mind, we are focusing on areas like digital commerce, freelancing, software/hardware, fin-tech, health-tech, edu-tech etc.," said Tina F Jabeen
Sajid Rahman said, "In the times of crisis, initiatives like Accelerate Bangladesh are really important to drive the economy forward."
"Our intention is to connect founders with Angel investors and make their approach fundable," Sanchayan Chakraborty said in his speech.
Julie Murat, COO, Bridge for Billions; Mehad ul Haque, Country Coordinator, Biniyog Briddhi; Bijon Islam, Co-founder & CEO, Light Castle Partners; and Maxime Cheng, Programme Manager, Roots of Impact were speakers at the event.
The aim of Accelerate Bangladesh is to equip founders with hands-on experience to make them ready to avail investment through eight modules related to impact and commercial investment readiness.
The organisers' combined strategy is to work with five hand-picked companies that are operational in the field of health-tech. They are post-revenue and offer products that are relevant during this pandemic and align with ecosystem programmes like Call4Nation. Most importantly, these companies are trying to raise early-stage capital for the first time.
"Twelve years ago we took on the mission to put Bangladesh on the global startup landscape by changing the narrative about Bangladesh, one startup at a time. Today we are so humbled and proud to put ourselves on a new S-curve altogether called Accelerate Bangladesh. We believe this is how we are building our future together, all by ourselves, with the best of our minds solving one big problem at a time and then scaling them well," said Chief Storyteller of BetterStories, Minhaz Anwar, when asked about this programme.
The featured 5 local impact enterprises are BanglaMeds, BimaBD, Smart Retina, ToguMogu and Dhaka Cast.
BanglaMeds is the first online pharmacy in Bangladesh providing home delivery services to OTC and prescribed drugs all over Bangladesh.
BimaBD is Bangladesh's first online insurance marketplace delivering a plethora of insurance services online anywhere in the nation, such as motorcycle, car, travel, life and health insurance.
Smart Retina is a company that employs Automated Diabetic Retinopathy Screening Systems through a fully cloud-based AI system. They operate in a Software as a Service (SAAS) based B2B model, enabling them to provide their services in any diagnostic centre in the world. They hope to improve access to ophthalmological care in Bangladesh for diabetic patients.
ToguMogu is a one-stop service based platform for expecting and new parents in Bangladesh. They provide a wide range of products and services from online shopping and delivery of baby care products, books, etc. to providing educational consultancy and even facilitate finding a doctor for one's child.
Dhaka Cast is the first ever online diabetes management website in Bangladesh. Doctors related to this field provide online consultancy 24/7 through this platform.
The journey of the participating enterprises through the accelerator's structured curriculum will be assisted by selected mentors and experienced professionals. The curriculum and modules themselves are hosted on Bridge for Billions' innovative virtual incubation platform, through generous support from Swiss Development Cooperation's Biniyog Bridhi program to stimulate an impact investment ecosystem in Bangladesh for startups, implemented by Roots of Impact and run locally by Lightcastle Partners.
Alongside the main modules, weekly clinics will be held between the startups, investors and mentors from among BetterStories and Bangladesh Angels Network.
A virtual showcase will be organised in December by Bangladesh Angels Network and BetterStories to conclude the programme, along with post-showcase follow-up to drive fundraising and investments.