Bicycle-rental startup JoBike plans big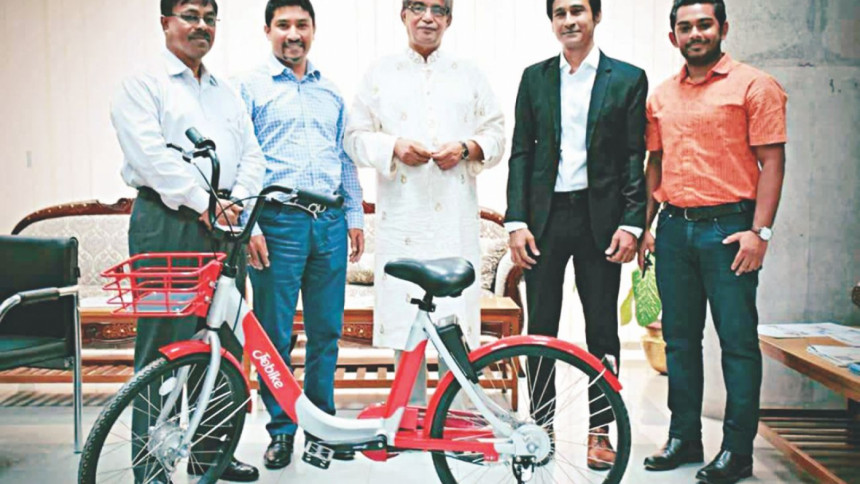 Bicycle-rental service JoBike, which would allow riders to rent a bike from one's smartphone, is set to roll out operations within the next three months at public universities with a view to providing economical and environment-friendly mode of transport for students.
Initially, the startup plans to run its service at Dhaka University, Rajshahi University, Chittagong University, Bangladesh Agricultural University in Mymensingh and Islamic University, Bangladesh, in Kushtia, said Mehdi Reza, founder and president of JoBike.
JoBike will start its pilot run at Jahangirnagar University next week, after fine-tuning its operations in Cox's Bazar in the past three weeks.
Some 30 bicycles will be available along seven points, also called docks, of the Jahangirnagar University campus. The points will be close to the halls of residence and academic buildings.
To rent a bicycle from JoBike, one has to download the mobile application and open an account. The app would show the nearby docks with available bikes. After entering payment information a QR code will be provided, which needs to be scanned to unlock the bikes from the dock.
Users will be charged Tk 3 for every five minutes, and the bicycles must be returned to the point where they were taken from.
Based on user feedback the fare will be reviewed as well as other related issues before full-fledged operation is launched in August with 200 bicycles at Jahangirnagar University. "Youths will be our main users," said Reza, a former product operations manager at Alibaba Group, the largest online trading company of the world.
Since it is an environment-friendly mode of transport, bicycle-rental service is very popular in large cities like London, New York, Melbourne, Paris, Madrid, Copenhagen and Singapore and so on. "The same thing will happen in Bangladesh." Asked if the company is concerned about the bicycles' security, JoBike officials replied in the negative.
The company is using the Internet of Things (IoT) in their specially-designed bikes, so those can easily be located using the technology.
The company had planned to launch the service at Jahangirnagar University six months back but because of regulatory issues it was pushed back. Reza, who started JoBike with his two Alibaba colleagues, though is optimistic about the service's success.
"We are getting huge response from Cox's Bazar even though we launched on a very limited scale there," he said, adding that the company will expand its fleet size from 20 to 170 in the tourist town within the next one month.
Shameem Ahsan, an investor in the startup and a former president of the Bangladesh Association of Software and Information Services (BASIS), is an early believer in the venture's potential.
"I hope this venture will become a billion dollar company," Ahsan, also the chairman of e-Generation Group, said, while declining to share the amount he invested in the company.