Star wins big at South Asian Digital Media Awards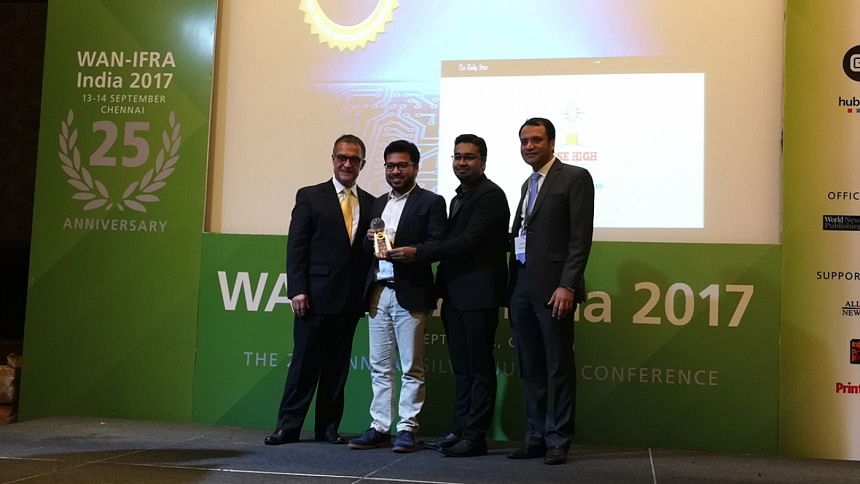 Bangladeshi English newspaper The Daily Star has won big at the prestigious South Asian Digital Media Awards 2017 jointly presented by WAN-IFRA, the World Association of Newspapers and News Publishers, and Google.
The Daily Star has won two awards, a Gold in "best digital advertising campaign" category and again a Gold in the category of "best in social media engagement", according to a press release.
For each category there are three awards- Bronze, Silver and Gold.  This is the most prestigious recognition for the publishers for their outstanding works in Digital Media. The awards are presented in every region - South Asia, Asia, Middle East, Africa, Europe and Latin America, says the release. 
The Daily Star received 'best in social media engagement' for the campaign "Mayer Daka Naam", a social media campaign launched to celebrate Mother's Day, a joint initiative with CBL Munchee.
It received 'best in digital advertising campaign' for Rise High Bangladesh, a university based export idea contest that highlights local products of Bangladesh to a global arena.
The Daily Star for winning gold in both the categories is eligible for the World Digital Media Awards now, it said.
This year, the winners of South Asian Digital Media Awards were chosen from ten categories- Best News Website, Best in Lifestyle, Sports or Entertainment Website, Best Digital Advertising Campaign, Best Use of Online Video, Best Data Visualisation, Best News Mobile Service, Best Lifestyle, Sports or Entertainment Mobile Services, Best Innovation New Product, Best in Social Media Engagement and Best Innovation to Engage Youth Audiences.
The awards ceremony was held today at ICT Grand Chola, Chennai India. Md Tajdin Hassan, Head of Marketing and Shuvashish Roy, Digital Marketing Manager of The Daily Star, received the awards on behalf of the organisation.
Crown Cement is the valued partner of the project and season-2 of the project is currently underway. WebAble Digital was also a digital partner of the Rise High Bangladesh project.
WAN-IFRA, which organises the awards programme jointly presented with Google, is the global organisation of the world's press which derives its authority from its global network of 3,000 news publishing companies and technology entrepreneurs, and its legitimacy from its 80 member publisher associations representing 18,000 publications in 120 countries.