Local assembly to meet 30pc of handset demand this year
Assemblers call for more policy support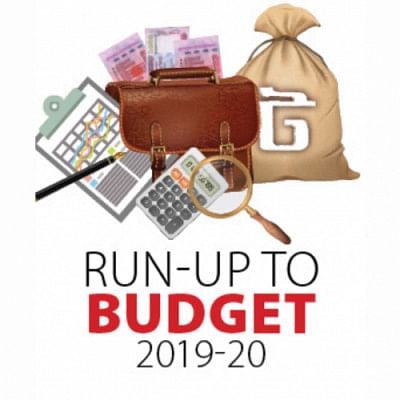 As much as 95 percent of the handsets sold in Bangladesh by the South Korean electronics giant Samsung are assembled in its plant in Narsingdi, in a major endorsement of the country's fast-improving assembling capabilities.
"Save for the flagship devices all handsets are now assembled here," said Mohammad Mesbah Uddin, chief marketing officer of Fair Electronics, which started assembling Samsung-branded handsets in its 58,000 square feet state-of-the-art manufacturing plant from last year.
The plant, which was set up with expertise from Samsung, was born out of the government's discriminatory tax structure towards handset imports.
The total tax on imported handsets is 32 percent in contrast to about 17 percent on locally assembled ones. For handsets manufactured in Bangladesh, the tax is just 5 percent.
This tax structure prompted seven parties to seek out licences from the Bangladesh Telecommunication Regulatory Commission for local assembling of devices.
Of them, five have got their assembly lines rolling and in the first quarter of this year supplied 12.63 percent of the total demand for 76 lakh units of handsets.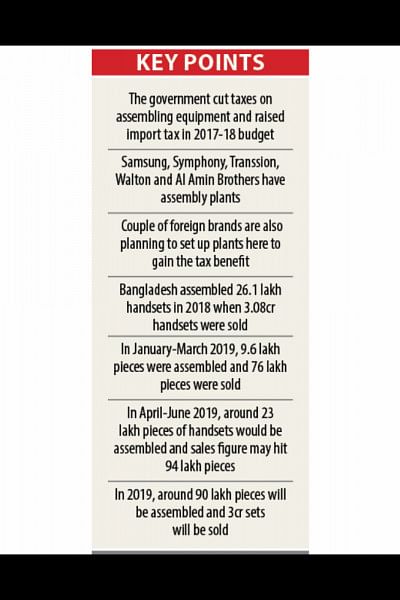 Last year they churned out 26.1 lakh units, and by the end of the year they will account for one-fourth the supply, according to Mesbah, also the joint secretary general of the Bangladesh Mobile Phone Importers Association (BMPIA).
"This is a huge achievement for Bangladesh," he added.
Rezwanul Haque, chief executive officer of Transsion Bangladesh, whose plant in Gazipur is leading the charge in local assembly, echoed the same.
"In a short period of time, I would say this is a great achievement for assemblers and as a whole this is an achievement of the country."
The plant in Gazipur is assembling about 3.5 lakh units of handsets a month, which is the highest.
The Chinese manufacturer though has targeted to assemble all its handsets at the plant and also get its sister brand Techno on board.
"We have very big dreams for our plant. Our first target is to cater to the local market, after which we will explore export opportunities," said Haque, also the former general secretary of the BMPIA.
Local brand Walton, which was the first to set up a mobile phone assembly plant in Bangladesh in October 2017, has been assembling all its handsets locally since the middle of last year.
In 2018, the assembly line churned out about 11 lakh units, said a senior official of Walton.
Market leader Symphony too has been selling handsets assembled at its plant in Ashulia since September last year and is already working on a second plant in Bangabandhu Hi-Tech City in Gazipur.
Another local player Al Amin Brothers is too assembling devices of "5 Star Mobile" brand.
Thanks to local assembly, the price level of mobile phones has declined about 10 percent, according to industry players.
"But in order to move to the next phase of success, some other policy support is needed from the government," Mesbah said.
   For instance, for availing full tax benefits the government has put some conditions for assemblers -- like manufacturing batteries, chargers and some other components -- that even global giants cannot fulfil, he added.