PPP a way forward for Asia's growth: ADB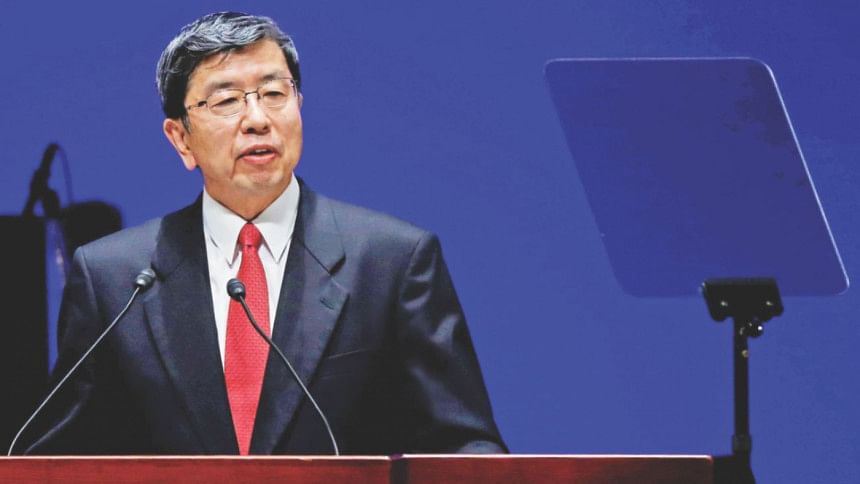 Asia's future development funding has to come from the private sector through public-private partnerships, said Takehiko Nakao, president of the Asian Development Bank, yesterday.
ADB member states insisted that the lender should invite larger private sector financing to support the region's development, especially for infrastructure, he said.
The ADB would increase its private-sector operations to 25 percent of its regular ordinary capital resources (OCR) operations by 2020, Nakao said, adding that expansion of such private sector involvements in resource mobilisation would be more visible in poorer countries.
As the ADB's four-day annual meeting came to an end in Yokohama yesterday, Nakao stressed the need to bridge the gap between available resources and required funding to meet Asia's development needs through 2030.
Investment equivalent of 5 percent of Asia's GDP (excluding China) is required to carry forward the development projects in Asia and the Pacific, he said at the closing press conference.
About 3 percent of that would have to come through PPP while the remaining 2 percent from the governments of the Asian countries, he added.
Asia will need $1.7 trillion a year in investments in power, transport, telecommunications, and water through 2030.
"We will scale up efforts to help meet this large infrastructure deficit, increasingly use high-level technology in infrastructure, vigorously pursue our commitment to climate finance, and actively promote public-private partnerships."
The ADB was created to mobilise private sector resources by leveraging equity to tap capital markets. The merger of the Asian Development Fund lending operations and OCR balance sheet allows the lender to further leverage these resources, according to Nakao.
"Our experience in the past 50 years demonstrates that both public and private sector investments by the ADB through preparing necessary infrastructure and setting conducive policy environment help crowd in private sector resources and activities," Nakao said.
In response to a query, he said though the new US administration has recalled its representative from the ADB, it would soon depute one as alternate executive director. He hoped the US would continue to engage in Asia and the Pacific's development.
On the notion that Japanese companies get the most out of ADB work orders, Nakao said, "Our system is open. We go by the rules of international tenders."
In his closing remarks at the ADB board of governors meeting yesterday, Nakao said, "While progress in Asia has been impressive, many of you reminded us that the battle against poverty is not over yet.
Reducing poverty will remain our major focus. The ADB will continue to prioritise the needs of the poorest and the most fragile countries, including small island countries in the Pacific."
Growing inequalities are a major concern for many countries, he said. "We will enhance our support for addressing inequality across groups and regions. Strengthening financial inclusion and supporting inclusive business will be integral components of our approach to deepen inclusiveness," Nakao said.
Through an inclusive and meaningful consultative process, the ADB would develop and finalise its 'Strategy 2030' by 2018 when the bank's headquarters in Manila would host the 51st annual meeting of the board of governors.