Zaynax Health and Modhumoti Bank join hands to offer better healthcare packages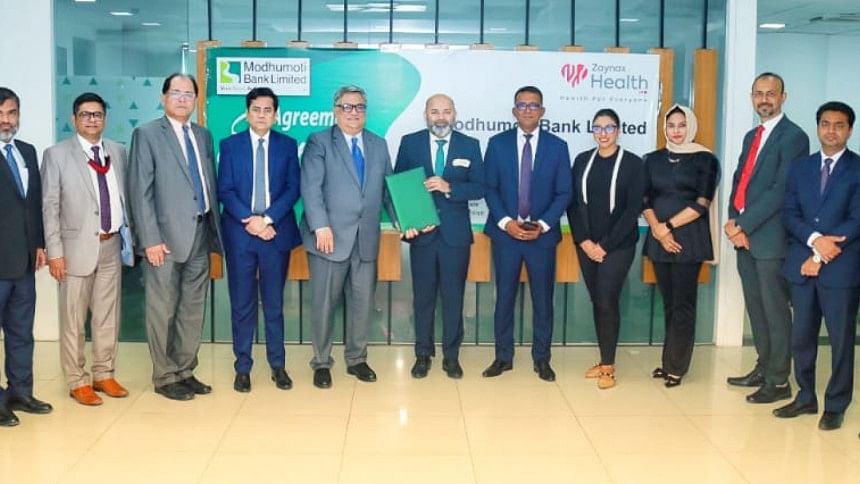 Modhumoti Bank customers can now access a range of digital health solutions offered by Zaynax Health, the country's leading digital healthcare provider through the bank's agent banking network spread countrywide. The partnership was formalised through a memorandum of understanding (MoU) signed between the two organisations yesterday.
"We are thrilled to enter into this partnership with Modhumoti Bank Limited," said a spokesperson for Zaynax Health. "This collaboration will allow us to reach more people and provide them with access to quality healthcare services. We believe this will have a significant impact on the health and well-being of communities across Bangladesh."
This partnership is a step towards Zaynax Health's goal of providing quality healthcare services to all the communities across Bangladesh and is expected to bring in innovative digital products making healthcare more accessible for the public.
Zaynax Health's digital health solutions provide a range of services, including telemedicine, hospitalization cashback, etc. These services are designed to make it easier for people to access healthcare, especially in remote areas where access to medical facilities can be limited.
Now, Modhumoti Bank's extensive agent banking network will provide customers with easy access to Zaynax Health's packages through which they can easily sign up for Zaynax Health's packages, pay for their services, and receive the care they need without leaving their homes.
Modhumoti Bank Limited's Managing Director & CEO Mr Md. Shafiul Azam, Deputy Managing Director & Chief Business Officer Mr Kamrul Hasan Khan, Deputy Managing Director & Chief Risk Officer and Mr Arab F. Rahman were present at the signing ceremony.
On behalf of Zaynax Health, Mr Parvez Ahmad, COO, Ms Maisha Binte Siddiq,  Head of Business, and Ms Sajia Afrin Faiza -Head of B2B, were present.