Monash College Diploma (MCD) orientation program held by Universal College Bangladesh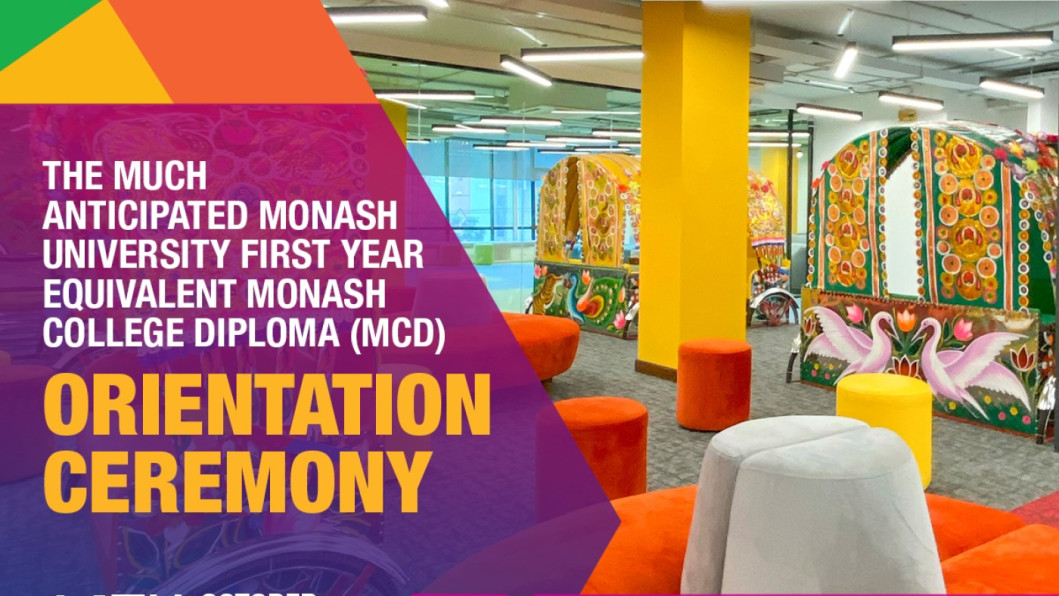 Monash College Diploma (MCD) Orientation, a program organised by Universal College Bangladesh - Ministry of Education-approved international education provider in Bangladesh, was held at the rooftop cafeteria of the college on October 14, 2021, to welcome the new students.   
This orientation program marks the initiation of a historic journey as no other international education provider has ever offered an international-standard diploma program in Bangladesh that will guarantee their entry into a foreign university.     
Dr Sandeep Ananthanarayanan, Chief Executive Officer, STS Group; Prof. Sarwar Ahmed, PhD, Dean of Academic Affairs, UCB; Shafik Waes, Manager of Academic Administration, UCB; Mostafizur Rahman Mridha, Head of IT, UCB; Habiba Kibria, Lecturer, UCB and Samia Afroz, Lecturer, UCB were present at the event. The guests welcomed the students and delivered speeches explaining different issues, such as an overview on academic integrity and academic misconduct, MCD policies, and essential academic tools necessary for the MCD program.
Monash College Diploma (MCD) is equivalent to 1st year of Monash University. Students who will be completing this program at Universal College Bangladesh can jumpstart their study in the 2nd year of Monash University upon fulfilling the entry requirement of Monash University with all the credits transferred. Students completing this diploma will also have the scope to transfer their credit to other desired universities.
Along with these, UCB is also offering Foundation Year. Monash University Foundation Year Orientation was held on September 01, 2021, for its first batch. Students of the first batch have already started attending classes from September 07.  
Dr Sandeep Ananthanarayanan, Group CEO, UCB, said, "I welcome all the students who have enrolled for Monash College Diploma (MCD) program. One thing I can assure you is that this is the beginning of a new and exhilarating journey of life, which will take all of you to the path of future success."  
Prof. Sarwar Uddin Ahmed, Dean of Academic Affairs, Universal College Bangladesh (UCB), said on this occasion, "I congratulate everyone present here for being a part of this historic journey. The students at UCB will not only get the opportunity to learn from highly-qualified teachers, but it will also open up many doors for the learners in the foreign universities including Monash College Australia."  
It is mentionable that Universal College Bangladesh (UCB) is the exclusive partner of Monash College, Australia, which is a world top-100 ranked university (QS 2022 rankings). Students can now jumpstart their journey to a degree at Monash University immediately after their O/AS/A/HSC levels by joining Monash College programs right here in Bangladesh at UCB. Students will receive the same global academic curriculum, a 100% guaranteed entry to Monash University (provided entry requirements are met), and avail of extremely cost-effective tuition fees.