Interview
University of London Degree with Academic Direction from London School of Economics (LSE) now in Bangladesh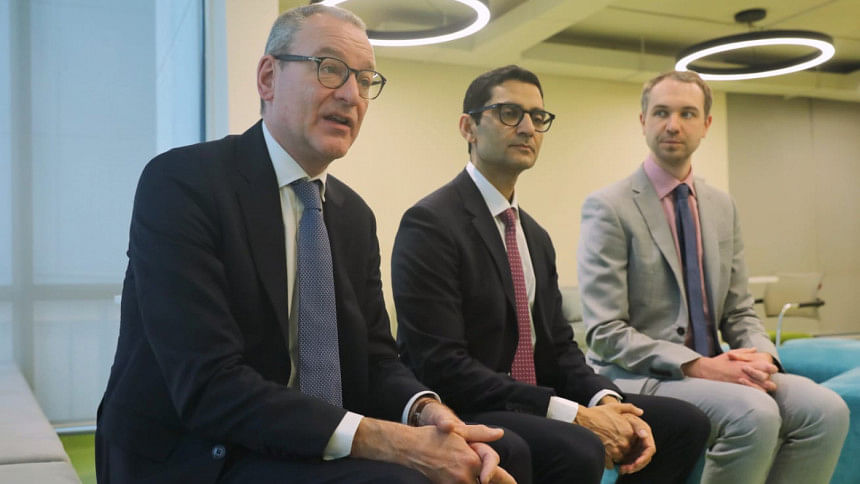 Universal College Bangladesh (UCB), in collaboration with the University of London, has made it possible to earn an international degree without going abroad.
By introducing economics, management, finance and social science (EMFSS) programmes in line with academic direction from London School of Economics and Political Science (LSE), students of UCB can attain a Bachelor of Science (BSc) in business management, accounting, finance and more.
The Daily Star's Saudia Afrin recently discussed the key features of EMFSS programmes with Professor Wim A Van der Stede, dean of LSE Extended Education, Miles Davies, senior business development manager, and Zarif Munir, Director of UCB. Below are excerpts of the conversation.
Saudia Afrin (SA): What role does LSE play in delivering EMFSS programmes at UCB and around the world?
Professor Wim A Van der Stede (Prof Wim): The degrees currently offered at UCB under EMFSS programmes are closely akin to the degrees offered at LSE. Our academic direction from research to education reflects on-campus-degrees in London. So, it is only a small step for us to provide the same quality of degree that can be achieved through international programmes.
SA: What do you mean by LSE's academic direction?
Prof Wim: Here, academic direction means planning the structure and content of each programmein a way that is determined by the LSE's ethos of research and education. We develop the study materials, manage the virtual learning environment and determine the progression of students. It is designed to provide students with knowledge and skills that will make them stand out.
SA: Why should a Bangladeshi student choose EMFSS programmes in Bangladesh ?
Prof Wim: What makes the programme stand out is its academic rigor and global dimension. LSE is ranked three globally for social science. The EMFSS programme shapes students' futures through high academic standards in realising their full potential in employment. There is an independent confirmation that employers believe in the quality of the degree.
ZarifMunir (ZM): To sit in Bangladesh and study in one of the top two institutions in the world is one reason. The second reason is you become part of a global community. I think it is one of the best student experiences beyond academics.
SA: What are the requirements to enroll in such programmes?
Miles Davies (MD): UCB will add its own placement test on top of the minimum requirements set by UoL. But the baseline would be A-levels in non-overlapping subjects, where securing two Es and one D is considered a minimum requirement to pass. In addition, competency in mathematics equivalent to a C grade at O-level is also required. There are many English proficiency tests that are accepted, but IELTS is one of the most common. So, we require an overall score of 6 with 5.5 in each sub area. Lastly, the minimum age requirement is 17.
SA: How will the programmes be delivered at UCB?
ZM: The actual curriculum is coming directly from London. The delivery will be done locally by teachers who are approved by UoL and LSE. We've got the city's best campus. In addition to providing the best education for students, they will have access to global resources as well.
Prof Wim: The teachers have higher degrees such as PhD from Oxford or German universities or a combination of a high level successful master's degree with relevant experience.
MD: LSE has been impressed with the quality of the faculties that have been employed by UCB so far for the programme. So, we're very confident in their ability to deliver.
SA: How is the EMFSS degree international if delivered locally?
Prof Wim A Van: There is an opportunity for students of EMFSS programmes to study in London for a full academic year at LSE by transferringthe credits of their degree. Moreover, Bangladeshi students of this programme can apply to over 100 summer school courses. It will also allow them to transfer some credit for the accomplishment of their UoL degree, which they enrolled in Bangladesh.
MD: There are webinars, workshops, forums and discussion boards open to students and teachers from all over the world through these programmes.
ZM: Beside, there is an opportunity for Bangladeshi students to do their masters at LSE as well.
SA: How can students transfer credits to LSE or other global institutions after having studied under EMFSS programmes for a year or two in Bangladesh?
MD: Students can transfer to LSE or other institutions in their second year. After completing one year of the course at UCB, they can apply through the UK's Universities and Colleges Admissions Service (UCAS).
ZM: We're working with the world's top two institutions, so whatever you study under the EMFSS programmes is 100 per cent recognised globally.
SA: How cost-effective are these programmes?
ZM: The programmes are less expensive than if you were to study in London. However, it is more expensive than the local private universities, but not significantly.
SA: Will there be any opportunities for scholarships?
ZM: We're able to give strong students up to 40 per cent academic scholarships.
MD: The LSE also gives merit based partial scholarships to the top performers of EMFSS programmes for masters at LSE.
SA: How will the UoL-LSE qualifications at UCB help students prepare for the global and national job markets?
ZM: Globally, employers struggle to find good hires. So they look for students from the best academic institutions because of their way of learning and thinking. So, we believe whether it's national or global markets, employers have had great success in hiring students from LSE, including the EMFSS programmes. Students who enrolled in EMFSS programmes will also get the similar type of opportunities at home or abroad.
Highlight
"We're working with the world's top two institutions, so whatever you study under the EMFSS programmes is 100 per cent recognised globally" – Zarif Munir, director of Universal College Bangladesh.