Norway for quick resolution of Grameenphone-BTRC complications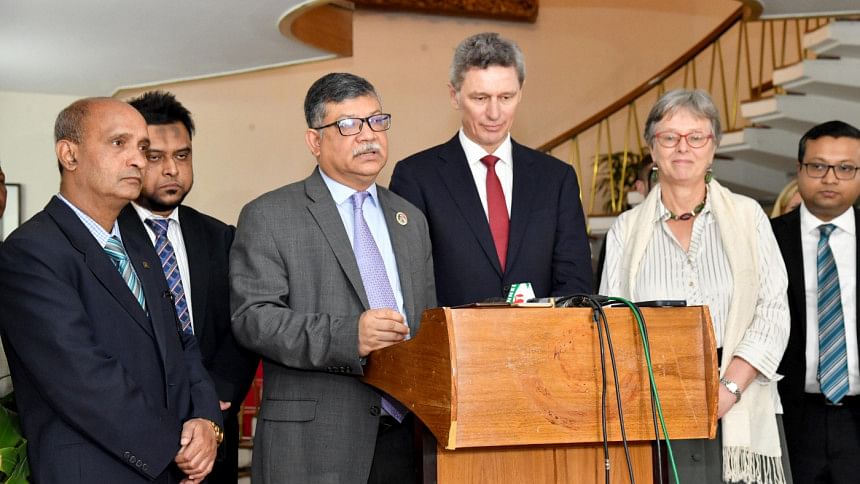 Norway wants a quick and amicable solution to the complications that mobile operator Grameenphone faces regarding its operations, in light of payment of dues to Bangladesh Telecommunications Regulatory Commission (BTRC).
"We have some concerns over the matters related to Grameenphone. We discussed those. We agreed to find a satisfactory solution," Norwegian Foreign Ministry Secretary General Tore Hattrem said after the second political consultation at the state guest house Padma in Dhaka today.
An audit by BTRC into Grameenphone's books from its inception in 1997 until 2014 early last year found that the telecom operator owed Tk 12,579.96 crore to BTRC in revenue shares, taxes and late fees. BTRC then directed Grameenphone to pay the amount.
The telecom operator then went to court and eventually, the Supreme Court ordered Grameenphone to pay Tk 2,000 crore to BTRC. On February 23, Grameenphone paid Tk 1,000 crore to the regulatory body.
Earlier, the operator said that it wanted court protection due to the pressure BTRC applied on it and its management. The BTRC's actions included declining no-objection certificates since July last year, issuing show-cause notice for license cancellation, and denying recycling of number series, it said.
Foreign Secretary Masud Bin Momen, who led the Bangladesh side at the consultation, said both sides took note of Bangladesh Supreme Court's recent ruling on the issue.
Norway sought the full court verdict, he said. The government will contact the Attorney General in this regard, he added.
The foreign secretary said the Norwegian government has a substantial share in Telenor, and if the Grameenphone issue is settled quickly, the country can make more investments in Bangladesh, he added.
"We want the legal procedures to be settled quickly," he said.
Meanwhile, he appreciated Norway for extending duty-free and quota-free access of Bangladeshi products under Norwegian GSP since 1st July 2002 and requested they continue the same even after Bangladesh's graduation out of the LDC group in 2024.
Both sides agreed to work on cooperation in the field of skills development in view of Bangladesh's graduation, rapid automation, the textile sector and disruptive technologies.
Bangladesh requested continued and intensified support from Norway to ensure safe, dignified and sustainable return of forcibly displaced Rohingyas as well.
Secretary General Hattrem reiterated Norway's support for Annan Commission's recommendations and ICJ's provisional measures and called for their full implementation by Myanmar.
Norway, currently running for a non-permanent seat at the UN Security Council, vowed to intensify its efforts at the UN to resolve the crisis if elected, he said.
The two sides also agreed to hold two milestone events of Bangladesh, namely the 100th Birth Anniversary of Father of the Nation Bangabandhu Sheikh Mujibur Rahman and the 50th Anniversary of the Independence of Bangladesh in Oslo, Norway early next year.