No cheer for cement industry in 2017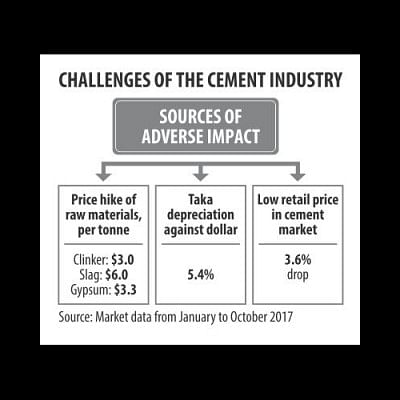 The price hike of raw materials, the depreciation of local currency and intense competition among too many makers have hit the cement industry hard in the outgoing year, market players said.
Even the ongoing mega infrastructure projects are failing to bring the cement manufacturers much cheer these days.
In 2017, the average price of cement went down by Tk 15 a bag to Tk 385 despite a significant increase in production costs, according to industry insiders.
The industry's sorry state of mind is also reflected in the stock market.
Seven cement companies are listed on the Dhaka Stock Exchange and their prices were on a decline -- though most shares and the overall index grew more than 20 percent in value in the outgoing year.
"Bangladesh is too dependent on imported raw materials, and the price hike of these items along with the adverse exchange rate has affected the cement sector in 2017," said PN Iyer, managing director of Siam City Cement (Bangladesh) that manufactures the Insee brand of cement.
The Bangkok-based cement manufacturer started operations in Bangladesh last year by acquiring Cemex.
The import prices of clinker and other raw materials have gone up due to the surge in global fuel price, according to Iyer, also the chief executive officer of Siam City Cement (Bangladesh).
For example, the price of clinker rose to $43.2 a tonne in October from $40.2 in January.
Similarly, during the period, the prices of gypsum shot up to $26.4 from $20.4 and slag to $25.9 from $22.6.
"In addition, the depreciating local currency against the US dollar has been eroding our competitiveness further," Iyer added.
A US dollar is now being sold at more than Tk 83. A year ago, it was less than Tk 80.
The inception of cement industry in Bangladesh dates back to the 1950s but its growth in the real sense took off only about a decade ago.
Until 1990, about 95 percent of the country's demand for cement was met through imports. Now, Bangladesh exports cement, albeit on a limited scale.
Since 1994, more than 120 companies were registered with the Board of Investment as cement manufacturers, but eventually about 75 went into production.
Later, many of them, especially the small ones located in Mongla, Khulna, Jessore and the North Bengal areas, shuttered for their lack of financial muscle to compete with the big players, rising production costs, disadvantageous location and shortage of utility supply.
Now, the market is dominated by global giants like Holcim, Lafarge, Insee and Heidelberg and sure-footed local players.
Bangladesh's annual demand for cement is estimated to be about 25 million tonnes, according to industry insiders.
But, the combined effective production capacity of the active cement manufacturers is more than 43 million tonnes and the installed capacity is nearly 50 million tonnes.
Yet, some makers continue to expand their capacity in anticipation of spiralling demand in future.
For instance, this year, manufacturers such as Aman and Crown have increased their capacity by 3.2 million tonnes and 1.1 million tonnes respectively.
And some other makers -- Shah Cement, Shun Shing Group and Premier -- are working to enhance their capacity in the incoming year.
The market is oversaturated and yet the big players are on an expansion spree, said Shankar Roy, adviser of Crown Cement and a former general manager of Holcim Bangladesh.
"We are in a dilemma as we cannot pass on the increased production costs to customers due to huge competition," he added.
Additionally, Mostafa Kamal, chairman of Meghna Group of Industries that owns Fresh Cement, pointed out the government move to limit the weight on the roads and highways as another blow for the cement manufacturers.
"We used to carry 400 bags of cement in a truck. Now, we cannot take more than 200 bags."