No change in plans for BB over Brexit
The central bank will not realign its reserve money invested in pound as exposure is minimal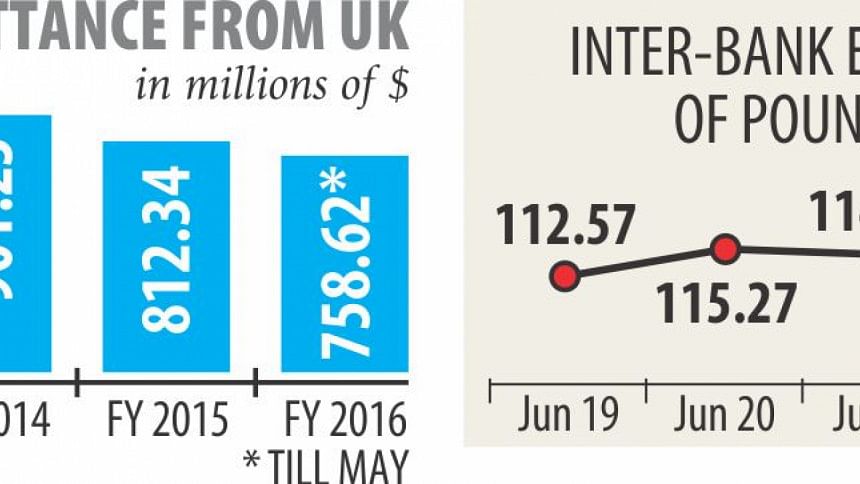 The central bank has no plans to realign its reserve money invested in pound sterling even after the currency hit a 31-year low following Britain's vote to leave the European Union, a top official said.
"Our exposure to pound sterling is minor and we don't see any risk there," SK Sur Chowdhury, deputy governor of Bangladesh Bank, told The Daily Star yesterday.
BB gives more weight to the US dollar, so keeps a lion's share of its reserve money in greenbacks, he said.
Presently, Bangladesh has around $29.3 billion of foreign exchange reserve, which is equivalent to eight months' import payment. Of the sum, only 4 percent, or $1.17 billion, is in pound sterling.
Pound recovered slightly against the US dollar upon reassuring statements from the Bank of England after a 10 percent plunge on Friday.
So, the value of the BB's exposure of $1.17 billion with the sterling has now come down to $1.07 billion in one day.
In other words, Bangladesh's investment in sterling lost nearly $95 million or Tk 745 crore ($1=Tk 78.4) in value overnight.
Also in Dhaka, pound sterling lost its value by more than 7 percent on Thursday alone. Each British pound sold at Tk 115.34 at the inter-bank exchange level on Wednesday, which plummeted to Tk 107.26 the following day.
Yet, BB is not concerned as it has only 4 percent of its investments in pound sterling.
"We are more concerned about the inflow of remittance from England than our investments in sterling," said another BB official, wishing not to be named.
He is concerned because remittance is the major source of Bangladesh's healthy reserve.
After the Middle East countries, Malaysia and the US, the UK is the major source of remittance for Bangladesh.
Non-resident Bangladeshis in the UK sent home more than $812 million in fiscal 2014-15, and about $760 million in the first 11 months of the current fiscal year.
"If the Brexit causes job losses in the UK, Bangladeshis working there may also be affected," the official added.