Yamaha bikes to be built here from next year
ACI Motors starts assembly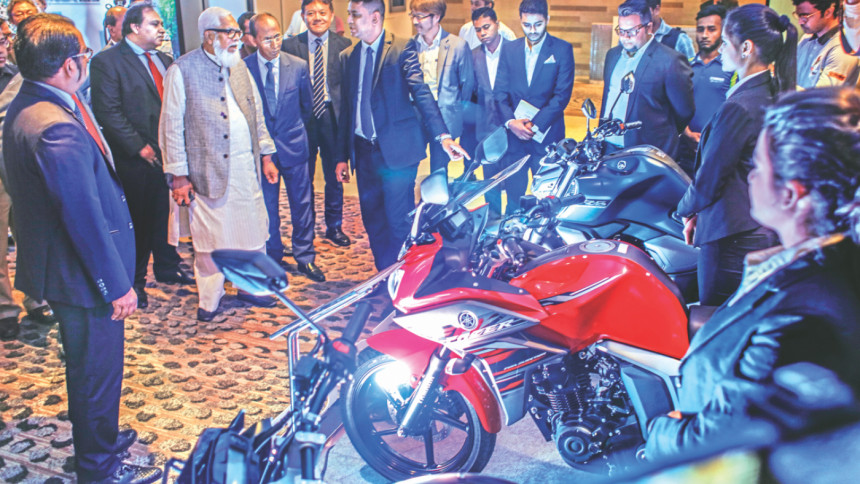 Yamaha motorcycles will be manufactured in Bangladesh starting next year, a move which the initiators say will offer competitive prices to bikers.
It will take up the rest of this year to set up the manufacturing operations, said FH Ansarey, managing director of ACI Motors, a joint initiative of ACI Limited and Yamaha Motor Corporation bringing the Japanese brand's two-wheelers.
Ansarey's comment came at a launching ceremony in Le Méridien Dhaka yesterday for ACI Motors' assembly plant for completely knocked-down kits at Sreepur in Gazipur.
Sitting on 6 acres of land, the plant took about Tk 100 crore to build and has an annual assembling target of 60,000 motorcycles.
Two models will now be assembled at the plant, said Subrata Ranjan Das, executive director of ACI Motors, adding, "Already their price has gone down in the local market."
Inaugurating the plant as chief guest, Salman F Rahman, the prime minister's private industry and investment advisor, termed it a milestone.
"...in a sense that two very successful and professional companies, one from Bangladesh and one from Japan, got together in a joint venture to assemble the world-class bikes," he said.
The government wants to facilitate initiatives taken up by investors so as to increase production, he added.
"Bangladesh Investment Development Authority (Bida) should create an environment using which any project can be implemented automatically and in a simple way," said Rahman.
He also hoped that Bangladesh will do good in World Bank Group's ease of doing business index, going up to 125 from this year's ranking of 176.
There has been significant progress in many areas with the full co-operation of Bida and other government agencies, he said.
Within the next two to three weeks, entrepreneurs will be able to complete registration formalities of the Registrar of Joint Stock Companies and Firms online, said Rahman.
Aminul Islam, executive chairman of Bida, said Bangladesh needed to look beyond the RMG sector should it want to graduate to a higher middle-income country.
Motorcycle assembly is such a step, he said, adding that the inaugurated plant would be a lesson for other world-class companies to engage in tie-ups with Bangladeshi companies to manufacture their products in the country.
On assembling motorcycles in Bangladesh, Yasutaka Suzuki, executive general manager of Yamaha Motor Corporation, said they put focus on customers' confidence and never compromise on quality.
Last year 5.37 million Yamaha motorcycles were sold, he said, adding that Asia was a big market, especially Bangladesh, for its huge young generation. "So we agreed to set the plant here to provide them bikes at a fair price," said Suzuki.
M Anis Ud Dowla, chairman of ACI Group, said the government has made a supportive assembling policy for the private sector. "It needs to remain consistent for a period," he said. Arif Dowla, the group's managing director, also spoke at the event.