Wheat import declines
Int'l prices rise amid supply shortage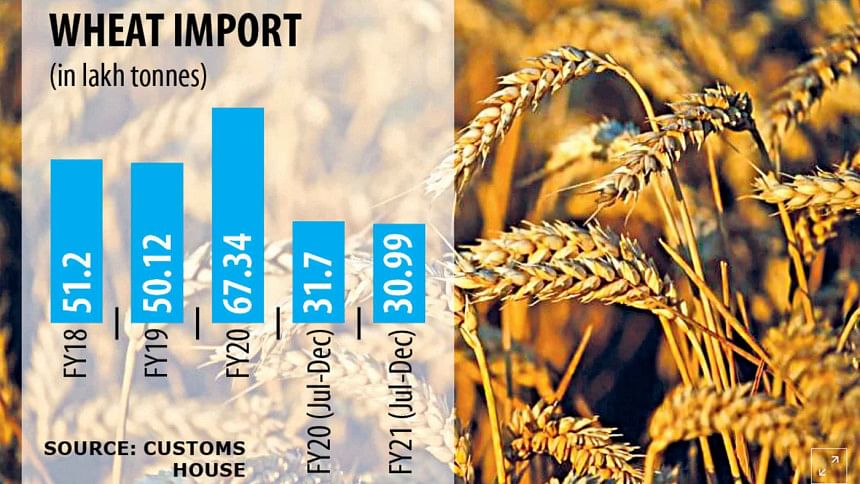 Wheat imports declined 2 per cent or 72,000 tonnes in the first six months of fiscal 2020-21 compared to the corresponding months of the previous year as prices rose amid a shortage of supply in the international market.
This is a result of the ongoing coronavirus pandemic, during which large countries increased their stocks of wheat, leading to price volatility in the international market, according to importers.
The price of wheat has gone up by $50 to $60 per tonne in the last three months.
Besides, Russia, one of the world's top wheat exporters, recently announced imposing export duty of €50 per tonne from next March.
A similar announcement could come from another major wheat exporter, Ukraine, they added.
The importers also said other exporting countries were imposing similar export duties to discourage shipments and ensure adequate supply for themselves amid the coronavirus pandemic.
The country's annual demand for wheat stands at around 77 lakh tonnes, 85 per cent of which is met through imports, according to data from the National Board of Revenue (NBR) and Department of Agricultural Extension (DAE).
The DAE estimates show that this year about 13 lakh tonnes of wheat would be produced on 3.5 lakh hectares of land while it was 12.45 lakh tonnes from 3.29 lakh hectares of land in 2019-20.
According to sources at Chattogram Customs, some 30.99 lakh tonnes of wheat worth Tk 6,731.18 crore was bought in the first six months of fiscal 2020-21. It was just 31.70 lakh tonnes in the same period of fiscal 2019-20, the NBR data shows.
Wheat was imported at an average price of Tk 235 per tonne in the last financial year but the current average price is Tk 256 per tonne.
Being an essential commodity, wheat bears no import tariff. Wheat comes to Bangladesh from 16 countries, including Russia, Canada, Ukraine, India, the US, Cyprus, Italy, Australia, Argentina, Estonia and Belgium.
According to importers, the purchase of wheat and wheat products has grown at a rate of 10-15 per cent almost every year over the past decade due to increased demand in the domestic market.
Nasir Uddin Chowdhury, director of TK Group, told The Daily Star that wheat production in almost all countries worldwide has declined due to the ongoing pandemic.
"We imported slowly due to the price hike in international markets. Prices are becoming more unstable day by day," he said.
The demand for wheat is always in an upward trend due to changing food habits and the increased demand and export of baked goods.
"So, there is less opportunity to reduce imports," Chowdhury added.
Abul Bashar, chairman of BSM Group, one of the country's top wheat importers, told The Daily Star that the country's annual demand for bakery products has been increasing at a rate of 10-15 per cent for the last decade.
At present, the supply of baked goods to the international markets is low while prices have become unstable due to the increase in wheat stocks in several large countries, including China.
Last Thursday, wheat from Russia and Canada was traded at $330 per tonne while it was $320 per tonne in Ukraine and $315 per tonne in the Indian market.
The price of wheat had already risen globally even before the €50 export tariff was announced by Russia, Bashar said.
Wheat Production
IndexMundi, a facts and statistics data portal, ranks Bangladesh seventh among wheat importers. Egypt topped the list with 1.30 crore tonnes during the last fiscal followed by Indonesia with an annual 1 crore tonnes.
According to an United States Department of Agriculture (USDA) report published on November 8 this year, Bangladesh has set the annual food grain production target for wheat at 13 lakh metric tonnes for fiscal 2020- 21.
If realised, the harvest would be a 4.2 percent increase over the 2019-20 harvest.
In consumption, Bangladesh comes 20th while China takes top spot with an annual 1.3 crore tonnes.
In production, Bangladesh placed 31st in the last financial year and again, China heads the leader board with 1.37 crore tonnes.