Tk 4,282cr project for developing Mongla Port
China to fund it; AIIB to finance power supply infrastructure; proposals to be placed before Ecnec today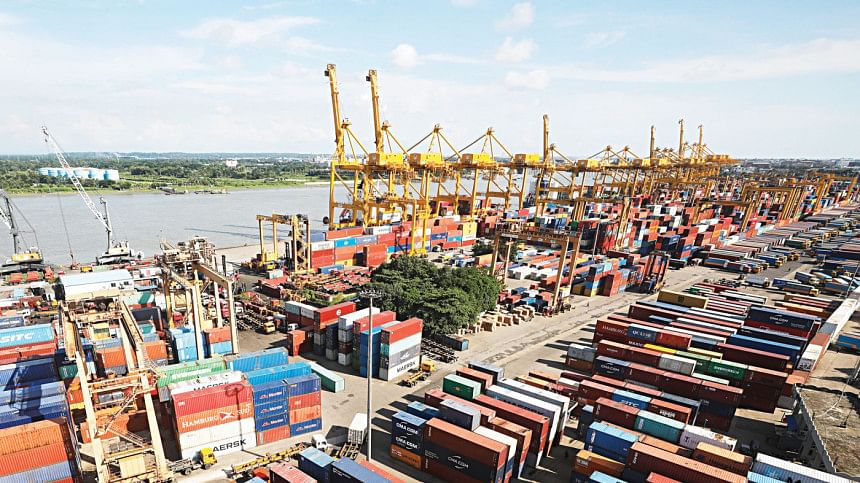 The government is going to implement a project with Chinese funds for the development of Mongla Port.
Another project aimed at improving power infrastructure in the southern part of Chattogram division and Bangabandhu Hi-tech City in Gazipur will be funded by the Asian Infrastructure Investment Bank (AIIB).
Besides, a project for empowering the country's rural women will be implemented by the government with funding by the United Nations Development Programme, the Swedish embassy, and Marico Ltd.
The three project proposals are likely to be placed for approval at the Executive Committee of the National Economic Council meeting today.
Of the Tk 4,282.36 crore Mongla Port development project, the Chinese government will provide 88 percent or Tk 3,782.36 crore in loan under a government to government mechanism, according to the Ecnec meeting agenda.
The remaining Tk 500.39 crore will be financed by the Bangladesh government. The project deadline is June 2027.
The objectives of the project are to enhance the port's container-handling capacity with modern facilities and build container terminal (jetty), container delivery yard, and container yard (near the jetty).
Once the project is completed, it will be possible to provide the port users with modern services, according to an assessment of the Planning Commission.
Besides, the project will play an important role in ensuring proper and safe handling of containers and cargoes at the port.
The Tk 2,762.43 crore project for developing power infrastructure in the southern part of Chattogram and Bangabandhu Hi-tech City is expected to be done by June 2028.
AIIB will provide Tk 1,696.46 crore in loan for the project. The rest will be financed by Bangladesh.
Under the project, power grid will be developed to meet the growing demand of electricity in Cox's Bazar Sadar and Teknaf upazilas and Anwara upazila of Chattogram.
Besides, the project is also aimed at smooth power supply to different under-construction economic zones in the Chattogram region and the under-construction Bangabandhu Hi-tech City in Gazipur's Kaliakoir.
According to the Planning Commission, uninterrupted power supply to different establishments of the project area will be possible once the project is implemented.
The government will also implement the 148.4 crore Strengthening Women's Ability for the Productive New Opportunity (SWAPNO) (Phase-II) project in 283 unions and 32 upazilas of 12 districts.
For the project, the UNDP, the Swedish embassy and Marico Ltd will provide Tk 76.79 crore while the remaining Tk 71.61 crore will be given by Bangladesh.
Under the project, 10,188 female beneficiaries will get mobile phones, their skills will be improved and new employment opportunities will be created.
The government is to take up the project aiming to alleviate poverty of the rural women.