Sonali Bank: once bitten, twice shy
Logged in lowest loan-deposit ratio last year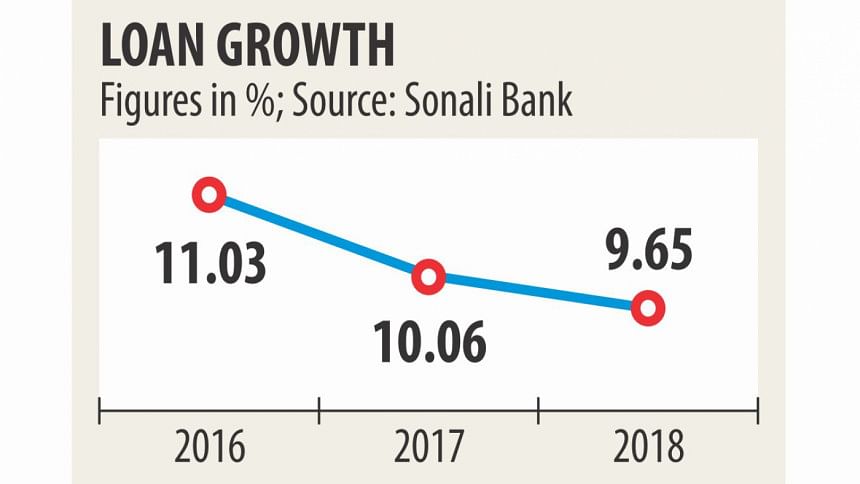 Sonali Bank has emerged as an anomaly in the banking sector, logging in almost half the loan-deposit ratio than other banks last year, at a time when most were gasping to contain their ratio to within the authorised limit.
At the end of 2018, Sonali's loan-deposit ratio stood at 42.43 percent, whereas the ratio was beyond 85 percent for most other banks.
When all the banks were fighting for deposits by offering high interest rates, Sonali sat still. The bank offered interest rate of 6 to 7 percent on deposits throughout last year, when most of the private banks were giving upwards of 10 percent rate.
Subsequently, its deposit growth in 2018 was 2.78 percent, down from 3.17 percent a year earlier.
Its loan growth was 9.65 percent last year, down from 10 percent in the previous year.
At the end of 2018, its total deposits stood at Tk 1.09 lakh crore against the loan balance of Tk 46,408 crore, according to the bank's annual report.
"We adopted a conservative banking policy after the Hall-Mark loan scam," said Md Ashraful Moqbul, chairman of the largest state bank.
Between 2010 and 2012, Hall-Mark Group swindled Tk 3,500 crore out of the bank, sinking the bank to a loss of Tk 3,153 crore in 2012.
The bank has made an about turn in its financial health since.
Its loan recovery from top 20 defaulters soared 59 times to Tk 1,811 crore last year from Tk 31 crore in 2017, according to the annual report. Sonali, however, could not recover a single paisa from Hall-Mark Group.
The classified loans declined 19 percent to Tk 12,093 crore.
"Now, it is next to Islami Bank when it comes to making profit," he said at the bank's annual conference, which was held on Monday at the auditorium of the Institution of Diploma Engineers, Bangladesh.
Sonali's net profit rose 41.60 percent year-on-year to Tk 1,000 crore in 2018, according to data from Bangladesh Bank.
The bank has retrained its focus on investment instead of disbursing big loans.
"Many banks and financial institutions borrowed short-term deposits from us. Even some state-owned banks borrowed from us last year," he added.
BB Governor Fazle Kabir acknowledged the leap in the bank's financial health.
"But the bank still has a huge provisioning shortfall," he said at the annual conference.
The bank rescheduled Tk 2,000 crore but its default loans did not decline as much, Kabir added.