SMEs need policy support to create more jobs: experts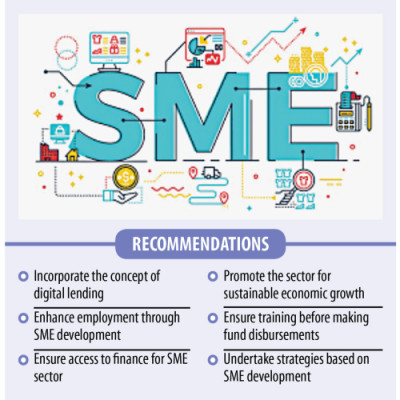 The small and medium enterprises (SMEs) need policy support to boost the sector's contribution towards generating more jobs, experts said.
Besides, the banking sector needs to undergo a digital revolution to ensure that micro, small and medium enterprises (MSMEs) have better access to financing as the sector is constrained by limited funding, they added.
They spoke at a webinar styled, 'BBF SME Digital Summit 2020', organised by the Better Bangladesh Foundation (BBF) in association with BBF-Global on Wednesday.
The event was moderated by Masud A Khan, chairman and CEO of BBF.
Considering that SMEs account for around 90 per cent of most developed economies, such as the US, it is incumbent for Bangladesh to invest more in this sector, said Selim RF Hussain, managing director of Brac Bank.
Aside from its business with the corporate, commercial or retail sectors, Brac Bank's primary focus is on SMEs, particularly the cottage micro small (CMS) enterprisers, he said.
Over the 19 years till August 2020, BRAC Bank has served a total of 823,835 customers and disbursed loans of Tk 755,997 million, said Hussain, who delivered a keynote speech at the programme.
"The vision has always been to use this segment to add value to our society and grow employment to add to the country's overall economic activities."
Terming increased operating costs as a big challenge for SME banking, Hussain said digitalisation of the financial sector is an obvious solution as it improves customer service, increases a bank's reach, reduces costs and allows people to avail services in real-time.
Meanwhile, Qazi Kholiquzzaman Ahmad, chairman of the Palli Karma-Sahayak Foundation (PKSF), said the number of cottage and ultra-small entrepreneurs in the country is around one crore while around three crores of people are related to them.
The eminent economist underscored the need for financing in this segment, which is seemingly not a good customer for banks.
While informing that the Tk 20,000 crore stimulus package aimed at the ultra-small, small and medium entrepreneurs announced by the prime minister in April is yet to be implemented, Ahmad said distributing this fund to target groups through banks is a challenge task.
Training should be provided before making any fund disbursement to prospective entrepreneurs. Besides, the SMEs need to be aware about what technologies they should use and where to collect it from.
"Efficient use of skills and technology will ensure productivity and subsequently profit," Ahmad said.
While speaking at the programme, Shafiqul Islam, managing director of the SME Foundation, said enhanced employment would be ensured if SME sector is developed properly.
He underscored the need to undertake strategies based on the development of the SME sector so that more employment could be created, which would play a vital role in revamping the country's economy in the post pandemic era.
Planning Minister MA Mannan, chief guest at the programme, said the government would extend all kinds of policy support in this regard.
SBK Tech Ventures Founder Sonia Bashir Kabir said SMEs, mainly MSMEs or cottage, small, medium entrepreneurs (CSMEs), are called the missing middle since they are too small for commercial banks and too big for micro financing institutions to finance.
According to the SBK Tech Ventures Founder, underwriting of SME loans needs to be simplified by incorporating concept of digital lending.
"We need to work with the regulators to keep up with the fast pace technological changes brought by FinTech," Kabir said.
"We can think that bank is a ship and the FinTech is a speed boat. We coexist, we collaborate," she added.
Kabir also stressed on the need to ensure consumer data protection as well inter-operability across users and national borders.
BASIS Senior Vice President Farhana A Rahman, Ayat Foundation CEO Nusrat Feroz Aman, BBF Global CEO Rafiq Khan, BBF Global Managing Director Sazzad Rashid and Channel-I Programme Manager Raju Alim were present on the occasion.
Mantasha Ahmed, president of the Association of Fashion Designers of Bangladesh; Barrister Miti Sanjana, an advocate of the Supreme Court and representative of UK-based Hoda Vasi Chowdhury and Co. Sk Md Tarikul Islam also spoke among others.
Brac Bank Ltd joined the virtual summit as gold partner while Daraz Group as second gold partner and SME Foundation as strategic partner.