Skills training for 400 women
Citi UCEP trained 1,200 underprivileged women since 2014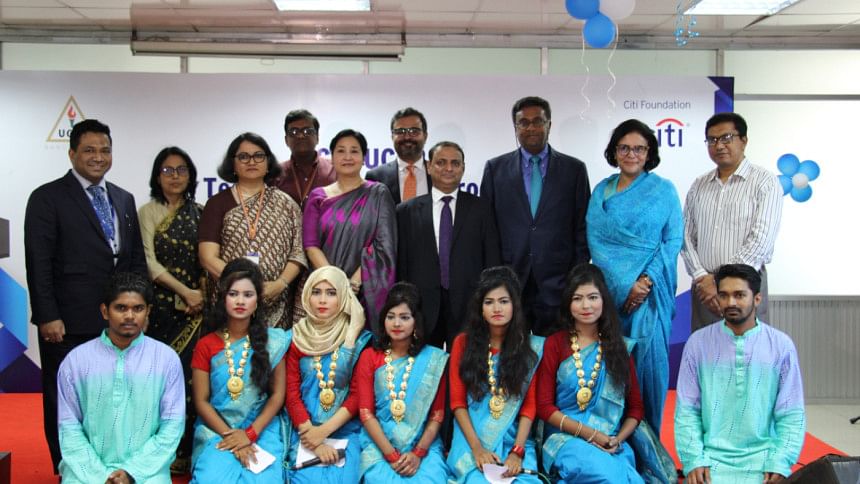 Some 400 underprivileged young women of the 2018 batch of the Citi UCEP Technical Education Programme have recently completed their training on industrial sewing operations and electronics assembling techniques.
Citibank NA Bangladesh in partnership with the Underprivileged Children's Educational Program (UCEP), a nongovernmental organisation, yesterday distributed certificates among the women aged between 17 to 25 years, at an event at UCEP's Dhaka office.
The Citi Foundation, the philanthropic arm of Citigroup, has been implementing the project since 2014 in partnership with UCEP. More than 1,200 underprivileged young women have so far received skills training under the programme.
The programme was implemented in UCEP's Dhaka, Gazipur, Jatrabari and Chattogram technical schools.
"I believe this joint effort towards women empowerment and youth employability will create future leaders across industrial skillsets which are timely and in high demand," Abu Hena Mohd Razee Hassan, head of Bangladesh Financial Intelligence Unit, said at the event as the chief guest.
"The challenge to include women from underprivileged background and to train them through proving skills that are meaningful and timely is just what we need at this moment of time," said Rubana Huq, president, Bangladesh Garment Manufacturers and Exporters Association.
"I congratulate the girls and wish them continued success."
Citi Foundation is focused on preparing today's young people to be the most employable generation yet, N Rajashekaran, Citi country officer for Bangladesh, said at the event.
"The success of these young women is vital to flourish our communities and drive the economy. Hence, the need of skills development and making them future ready has never been greater."
The technical education programme directly supports the underprivileged female youth to change their socio-economic condition, said Parveen Mahmud, chairman of UCEP Bangladesh.
After completing the technical and vocational education and training along with skills training under Citi UCEP Technical Education Programme, they are joining in different industries and earning money and contributing to their family, she said.
"Hope Citi UCEP Technical Education Program will continue to support to the underprivileged female youth."
"I congratulate all the graduates and hope that they will be inspired to take up meaningful jobs and move further to develop their careers," said Tahsinah Ahmed, executive director UCEP Bangladesh.
UCEP Bangladesh is grateful to Citi Foundation for the support in the endeavour, Ahmed said.