Second wave starts taking a toll on garment export
Buyers place 30pc fewer orders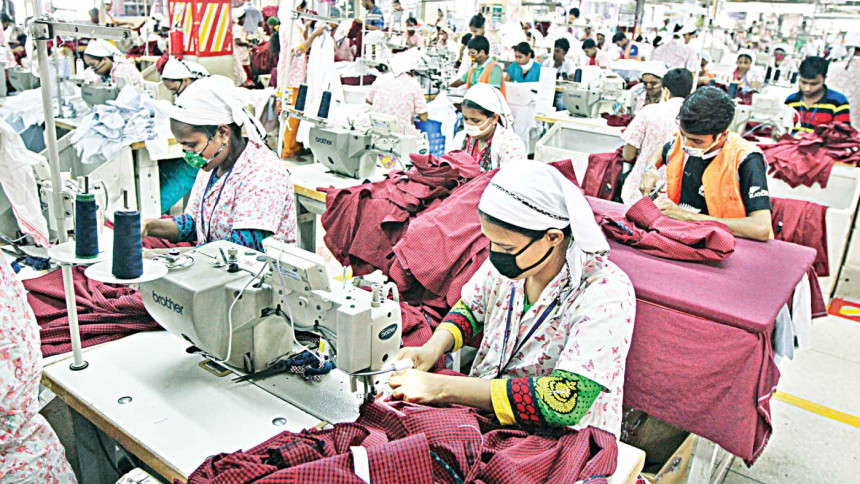 Just as Bangladesh's main foreign currency-earning apparel sector had begun recouping from shocks to its exports, a second wave of the coronavirus pandemic has started inflicting damages again.
This is because international clothing retailers and brands have placed 30 per cent fewer work orders year-on-year for the next four months starting December.
The figure on the export season came up as preliminary findings of a survey carried out last week among 50 out of 350 major factories by the Bangladesh Garment Manufacturers and Exporters Association (BGMEA).
Research by The Daily Star revealed similar findings of local suppliers receiving fewer work orders.
Buyers have been taking a lot of time to decide and place work orders and are not seeking the same volumes of the last export season due to the second wave that has already jolted the Western world and economy.
The fear of contracting Covid-19 has kept buyers from travelling freely, a practice aimed at checking proper work environments, product quality, compliance and establishing better business communication.
Since they cannot come on visits to factories in Bangladesh, they have currently reduced the volume of work orders for factories here.
For instance, a buyer was supposed to come to the factory of Shahidul Haque Mukul, managing director of Adams Apparels, from France last week but could not because of the second pandemic wave in France.
Though the buyer assured that an order would be placed, Mukul was still in the dark as to when.
Similarly, a Brazilian buyer of Mukul was supposed to reissue an order for 60,000 pieces of trousers previously suspended for the first wave of the pandemic.
"However, my buyer could take only 20,000 out of 60,000 pieces so far with the recovery from the first wave. But this buyer again put a halt on the orders," Mukul told The Daily Star over the phone.
"The inflow of work orders is slow, and the buyers are confused because of the current Covid situation in the Western world," he said.
Like Mukul, almost all suppliers have been facing similar kinds of problems arising from the buyers because of a second wave of the coronavirus pandemic. Unfortunately, the buyers are also offering lower prices to the suppliers, Mukul said.
Mahmud Hasan Khan Babu, managing director of Rising Group, a leading garment exporter, said the second wave was already having an effect on his factory.
In the case of knitwear, the buyers had placed 20 per cent fewer work orders compared to the last season because of fresh lockdowns in some places in Europe, his main export destination.
But, in case of woven, his buyers placed the same volume of work orders as that of the last season, he said.
"Buyers are delaying in placing the projected work orders, but they are pushing us for quick catering to the orders which have already been placed," Khan said over the phone.
He said although the buyers were promising to come back with work orders with improvements to the Covid situation, the suppliers would by this time face a gap in production and associated sales, which posed a danger to the sustenance of the business.
The small and medium enterprises are the main victims from the overall pandemic as they have a lesser capacity to cope up with work order losses.
For instance, Ahmed F Rahman, managing director of Kappa Fashions which employs nearly 1,000 workers, received 30 per cent fewer work orders.
On an average, he churns out one million t-shirts and polo shirts every month from his factory, but this month he received work orders for only 700,000, as buyers were very cautious about placing work orders fearing that they would not be able to sell those for the second wave.
A company in German already owes him over $150,000 and is citing excuses of being under the process of liquidation. Other buyers are even negotiating over prices in work orders that have already been placed, he said.
"This time I am very cautious (about which people to do business with) so that I do not face any work orders cancellation and non-payment from my buyers," said Rahman.
Data of the July-September 2020-21 period shows that exports to non-traditional markets suffered the most while that to the European Union and the US maintained stable growth, which actually helped Bangladesh make a turnaround in its exports.
"Now since Europe has entered into a fresh wave of COVID infection, emergencies and lockdowns are being declared in many countries including France, Germany, Belgium and Greece, and more are feared to follow the trail…," said BGMEA President Rubana Huq.
"…it would be difficult for us to cope up if the EU's demand for clothing and its sourcing is troubled further. This is worrying for us since Europe is our major market," she told The Daily Star a few days ago.
Huq in an audio message yesterday said the retailers and brands were making delays in placing work orders.
The factories will have to suffer if the retailers and brands delay the placing of work orders because the factories will have to keep the capacity idle if there is no work order from the buyers.
The World Trade Organization (WTO) yesterday said world merchandise trade appears to have rebounded strongly after plummeting in the midst of the Covid-19 pandemic, but whether growth can be sustained going forward was unclear.
A sharp rise in the barometer of trade index was driven by a surge in export orders, but mixed readings in other components and the resurgence of Covid-19 could weigh on trade in the coming months.
Trade-related uncertainty remains high. The second wave of Covid-19 infection is already underway in Europe and North America, leading to renewed lockdowns that could trigger another round of business closures and financial distress, said the WTO.
On a more positive note, progress has been reported in the development of a vaccine, but when and how it might be deployed is not yet known, according to the WTO.