RK Metal: from rags to riches
Its proprietor turns into a leading agri-machinery maker from a small-time welder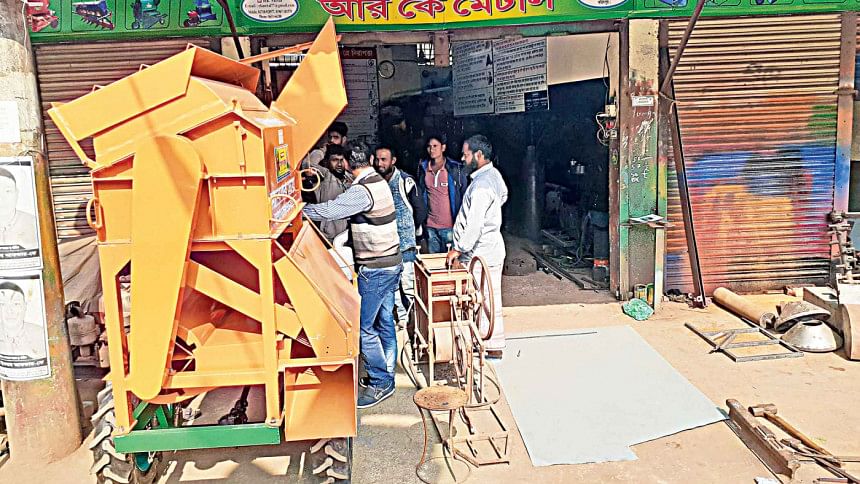 Paritos Kumar Malo, the proprietor of RK Metal, has shown that with a little determination and courage, anyone can go from humble beginnings to a real-life success story.
"It was 1997 when I borrowed Tk 50,000 from my maternal uncle to open a small welding shop but now, I earn Tk 50 lakh per year," Malo said.
RK Metal, a maker of agriculture machinery with 15 employees, is situated in the Habili Gopalpur area of Faridpur town.
"My father was a fisherman and I had to help him maintain our big family since childhood," the 45-year-old entrepreneur said.
Malo, son of Santos Kumar Malo, is the eldest among three brothers and the father of two daughters.
"I had to leave school in eighth grade to help meet my family's expenses. Later I learned the skill of mechanical engineering at the Christian Indurates Centre of the Mission House for two years," he added.
After completing the course, Milo worked at the Mission House as a production officer for seven years. He later passed his SSC but soon found himself earning for other things.
"That's when I felt that I no longer need to work for others. Then I decided to do something by myself to stand on my own feet and open a welding shop," he said.
RK Metal currently manufactures around 16 types of agriculture machinery, such as multi-crop power threshers, maize threshing machines and axial flow pumps, under the supervision of the Bangladesh Rice Research Institute (BRRI) and Bangladesh Agriculture Research Institute (BARI).
The machinery produced at the small workshop in Faridpur town sells for between Tk 40,000 to Tk 2 lakh with a profit margin of Tk 10,000 for all variations.
During a recent visit to the RK Metal workshop, this correspondent found that its workers were passing busy times in making numerous farming equipment.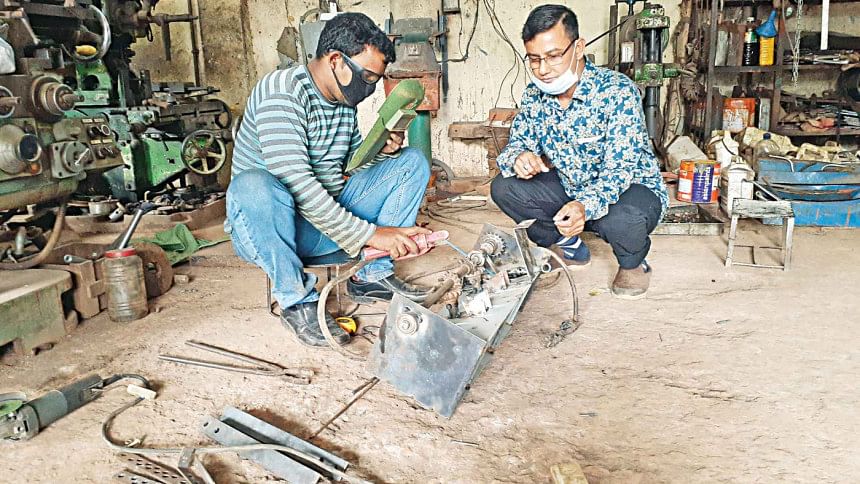 Shahid Sheikh, a farmer from the Char Salepur village of Faridpur's Charbhadrasan upazila, purchased a multi-crop power thresher for Tk 1.8 lakh from RK Metal. "I heard from other farmers that RK Metal's agriculture machineries are the best in our district," he added.
Similarly, Malek Bapari, a farmer of Gosail village under Dhaka's Nababgang upazila, said all the agriculture machinery he bought from RK Metal are still working very well due to their excellent quality.
According to Malo, both government and non-government organisations helped RK Metal come as far as it has through various initiatives, including skills training.
Md Ayub Hossain, chief scientific officer of BARI, said although RK Metal is a very small business, the quality machinery it produces is very good.
Some would even say that the company makes the best multi-crop power threshers and power seeders in the country.
"The demand for agricultural machinery is increasing day by day as the number of agricultural workers is decreasing every year," he added.