Relief for dressmakers as shops set to open before Eid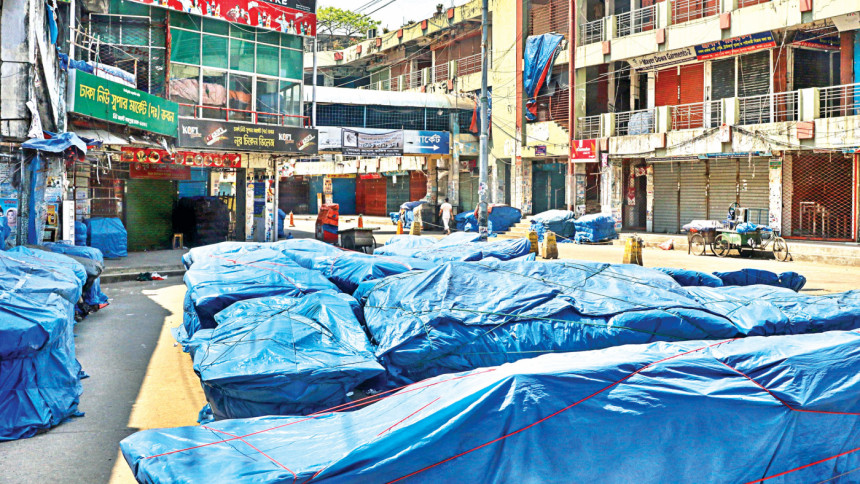 Much has been written about the garment sector's export orders hitting a brick wall for the global coronavirus pandemic.
But there is another set of garment manufacturers catering to the country's 16 crore-strong population, and they are in exigency too for the arrival of the novel coronavirus on these shores, which has necessitated a general shutdown since March 26.
Now, they are seeing a glimmer of hope after the prime minister yesterday announced that shops would be allowed to open on a limited scale for the Eid-ul-Fitr, the country's biggest shopping festival.
"This will be the last possible way for us to recover some of our losses," said Alauddin Malik, president of Bangladesh Avhantarin Poshak Prostutkarak Malik Samity, which represents about 20,000 small garment factories.
Were the Eid sales missed completely, the garment makers for the domestic market would be staring at losses of about Tk 20,000 crore. And this year, they were hoping to turn in profits of Tk 15,000 crore.
"Forget about profit. This year, many of us may have to sell our factories to repay the loans we have taken to make the clothes," said Alauddin Malik, president of Bangladesh Avhantarin Poshak Prostutkarak Malik Samity, which represents about 20,000 small garment factories.
The garment makers start manufacturing six months before Ramadan while sales begin 10 days before the beginning of the holy month and ends within the first 10 days of the month, he said.
Take the case of Fazlul Hoque, owner of Riya Garment at East Bengal Shopping Complex in the capital. Like every year, he made about one lakh piece of dresses for children to be sold in wholesale shops this year, too.
After the 20th Ramadan, the wholesalers start paying back Hoque, with which he clears his dues and pays his staff salaries.
"I have invested around Tk 1.2 crore to manufacture dresses by taking a loan of Tk 70 lakh. Things were almost the same since the beginning of my business in the market 10 years back. But this year, all calculations went wrong."
Before the shutdown took effect, he had delivered about 70,000 pieces. But the wholesalers' shops have been shut firmly more than a month now.
"I don't have a single penny in my pocket now. I can't pay my staff unless the wholesalers sell the clothes and clear my bills," he added.
Abdul Aziz, the owner of Asha-Moni garment factory in the capital's Sadarghat area, is in the same boat as Hoque.
He shelled out Tk 60 lakh to make 70,000 pieces of dresses for Eid. He sold the dresses at Tk 110 to Tk 300 each based on their quality.
But if the dresses are returned, he will have to sell those at an auction for Tk 50 to Tk 80.
"I really don't know how I would cover up the loss," said a despondent Aziz.
Md Faruk, the owner of Satata Collection, whose dresses are sold in different showrooms in Brahmanbaria, Sylhet, Cox's Bazar and Chattogram, says he waits all year round for the month of Ramadan.
"I am now waiting for some miracle to happen to save me," said Faruk, who has clothes worth about Tk 30 lakh stockpiled at the warehouse.
The members of Bangladesh Avhantarin Poshak Prostutkarak Malik Samity have invested about Tk 15,000 crore to establish their factories, said MH Mustafa, acting secretary of the Samity.
"There are instances of tailors becoming factory owners thanks to their hard work and enterprise. All these will be destroyed if the government does not pay attention to them," said Mustafa, who is also the secretary of Urdu Road Avhantarin Garments Baboshayee Association.
The association urged the government to give them loans under simple terms and conditions so that they can pay the workers' salaries and clear the bills.