Record FDI in 2018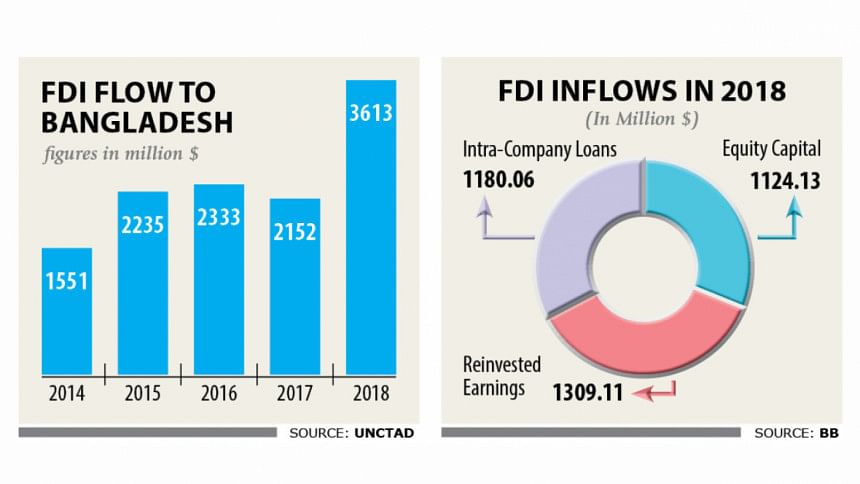 Bangladesh received net foreign direct investment (FDI) amounting to $3.61 billion in 2018, its highest yet thanks to the one-off payment of $1.47 billion by Japan Tobacco Inc. to purchase Akij Group's tobacco business.
The inflows are an increase of 67.94 percent from a year earlier, according to the United Nations Conference on Trade and Development (Unctad).
The power sector attracted the highest amount of FDI of $1.01 billion, followed by food at $729.69 million, textile and weaving at $408.08 million, banking at $282.54 million, telecommunication at $219.87 million, leather and leather products at $110.55 million and trading at $101.91 million.
The other sectors received $748.65 million, according to the Bangladesh Investment Development Authority (BIDA), which unveiled the compiled investment data of the Unctad at a media briefing at the capital's Pan Pacific Sonargaon hotel yesterday.
Of the $3.61 billion that came into Bangladesh last year, $1.12 billion were in the form of equity, $1.30 billion as reinvested earnings, and $1.18 billion as intra-company loan.
Country-wise, China was the biggest source for FDI inflows last year at $1.03 billion, followed by the Netherlands at $692 million, the UK at $371 million, the US at $174 million, and Singapore at $171 million.
Japan though does not feature in the top five as Japan Tobacco has thus far released $600 million and that too from the Netherlands.
FDI flows have declined all over the world, but in Asia they increased, particularly in Bangladesh, said Ahsan H Mansur, executive director of the Policy Research Institute of Bangladesh.
Merger and acquisition of big companies is one of the reasons for the higher inflows to Asia.
"Such deals indicate that foreign companies' interest in local assets is growing," Mansur said.
In future, more deals such as Japan Tobacco's acquisition of Akij's tobacco business may take place in Bangladesh.
"Bangladesh is now a proper place for FDI as every indicator of the country is in favour of business," Mansur added.
The government is working with the BIDA to introduce one-stop service with a view to enhancing the ease of doing of business in Bangladesh, said Salman F Rahman, prime minister's adviser on private industry and investment.
By next year the government wants to improve in the World Bank's ease of doing business ranking and move below 100. It has set a target to improve the rank to below 50 within the next two years, he said.
In the most recent iteration of the ranking, Bangladesh came in 176th out of 190 countries, the lowest amongst South Asian nations.
The government is considering withdrawing the proposed 15 percent tax on retained earnings as it is double taxation and investors will feel discouraged, Rahman added.
Some $2 billion worth of investment is expected to come to one of the economic zones within the next two years, said Paban Chowdhury, executive chairman of the Bangladesh Economic Zones Authority (BEZA).
Some major Japanese companies have already signed agreements with the BEZA for investing in Bangladesh.
"I am expecting $5 billion investment from China soon," he added.
Previously, the economy was confined to exports and imports, but now it is expanding to investment, said Abul Kalam Azad, principal coordinator for the SDG affairs at the Prime Minister's Office.
Ample scope to make profit accounted for such a big amount of FDI last year, said Kazi M Aminul Islam, executive chairman of the BIDA.
But Bangladesh's inflows pale in comparison with neighbouring India, up 6 percent to $42.29 billion from the previous year.
In South Asia, Pakistan received $2.35 billion, Sri Lanka $1.61 billion, the Maldives $551.8 million, Nepal $160.8 million and Bhutan $5.9 million.