Rationalise tariff to fight post-LDC challenges: DCCI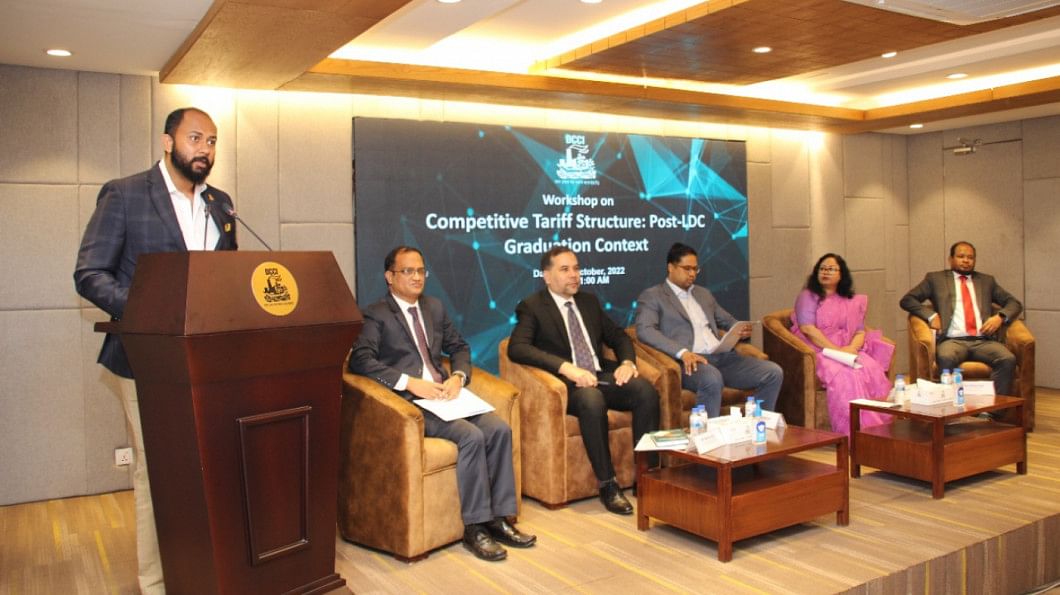 The government should rationalise the existing tariff structure, as Bangladesh will face a few challenges in case of giving subsidies after its graduation to a developing nation, said Rizwan Rahman, president of Dhaka Chamber of Commerce and Industry (DCCI).
He spoke at a workshop on "Competitive tariff structure: post–LDC graduation context" organised by the Dhaka Chamber at its office in the capital today.
After the LDC graduation, Bangladesh will have to pay 8 to 16 per cent duty to the export destination countries, he said.
"Moreover, we will not be able to impose any supplementary and regulatory duty to safeguard local industries, which is going to be a challenge."
At present, the average tariff structure in Bangladesh is about 13.5 per cent, which is higher than Vietnam, Taiwan and Malaysia, Rahman said.
"We need to prepare ourselves in terms of enhancing productivity, cost minimisation, industry skills development, ease of doing business and cost of doing business."
Md Mashiul Alam, joint chief of Bangladesh Tariff Commission, presented a keynote paper at the event.
"Bangladesh is a resilient country. Last year our export was $50 billion. Even after LDC graduation, Bangladesh has the capacity to adopt the challenges."
But from now, Bangladesh has to go for regional integration for preferential trade agreement, free trade agreement and Comprehensive Economic Partnership Agreement with potential trading partners to hold the market access, Alam said.
"It is true that our tariff line is not very competitive and is higher than many other countries. Therefore, we have no alternative but rationalise it."
In that case, sectoral tariff policy for at least five years will be helpful for Bangladeshi exporters and importers, he added.
Shish Haider Chowdhury, member of Bangladesh Trade and Tariff Commission, also spoke.
Farhana Iris, joint secretary of the WTO Cell under the commerce ministry; Md Neyamul Islam, first secretary for customs exemption and project facilities at the National Board of Revenue, and Arman Haque, senior vice president of the DCCI, also attended the event.