Post office goes big on e-commerce
Crores of orders to be delivered in rural areas per year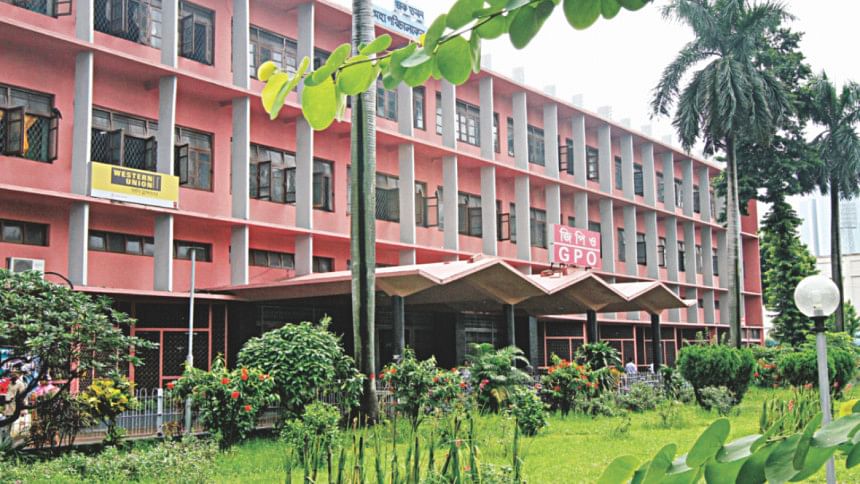 Bangladesh Post Office has started delivering parcels for online marketplaces on a wider scale across the country -- a giant stride towards boosting e-commerce.
After two and a half years of preparations, the postal department has now started delivering about 500 orders a day for the country's renowned online platforms, said Sushanta Kumar Mandal, director general of Bangladesh Post Office.
The number of deliveries will hit 5,000 within the next couple of months, he said.
"We have opened a dedicated counter to handle the e-commerce issues and a group of people are also trained to manage it," said Mandal.
Delivering e-commerce products will be one of the major earning sources for post offices as a huge amount of assets and a large number of human resources have been left unused for years, he said. E-commerce entrepreneurs have started using infrastructure of the post office, which has the largest delivery network with about 9,000 post offices, mostly situated in remote rural areas, he said.
Different products were delivered against orders made through ajkerdeal.com, priyoshop.com and bagdoom.com under a pilot project jointly taken by the postal department and the e-Commerce Association of Bangladesh (e-CAB).
AKM Fahim Mashroor, founder of ajkerdeal.com, one of the leading local e-commerce ventures, said they have been using the postal delivery service to send out a few hundred products from their company every day and the output is fantastic.
Definitely their service quality has improved and the charge is at a very minimum level, about Tk 30 for delivering a product to a district, which is almost half the cost of the previous system, said Mashroor, also a director of the Bangladesh Association of Software and Information Services.  To train up the human resources of the postal department, e-CAB and ajkerdeal.com donated 100 smartphones and developed a special kind of mobile application that helps to track the location of the products, said Muhammad Abdul Wahed Tomal, general secretary of e-CAB.
The service is currently unavailable to private distribution channels, he said. Currently this tracking system works up to the district level and within the next few weeks the e-CAB will distribute another 400 smartphones to cover upazila level post offices, Tomal added.
"This will be a huge boost to our e-commerce industry and overnight order numbers will be doubled or tripled or even may be quadrupled as a huge untapped market will now come within our reach," he said.
Reducing delivery costs could also play a huge part in the success since the average value of products ordered online currently stands at about Tk 700, he said.
Currently 25,000 orders are generated from the market on an average every day and it is growing by about 10 percent every month, according to SSL (Software Shop Limited) Wireless, one of the companies which conducts market research for digital commerce.
Post office officials said only local entrepreneurs could play a significant role to flourish the delivery channel.
However, regional e-commerce company Daraz, which was recently acquired by Alibaba Group, is also teaming up with them to deliver products on a very large scale.
He said the post office and Daraz were in discussion over a deal where the top e-commerce platform would deliver about one crore orders in a year.
"Our pilot project has been going smooth and we see great potential. Overall, we are satisfied with the support we have got from the post office," Syed Mostahidal Hoq, managing director of Daraz, told The Daily Star.
"The cost is also reasonable, so soon we will sign a long-term agreement with them," he said.
Hoq said they would also work together to prepare more post offices and equip those for e-commerce deliveries.
Mandal said they have modernised the services in a big way over the past few years and were hoping to serve people in a better way through this modernisation.