Online shops log Tk 120cr Eid sales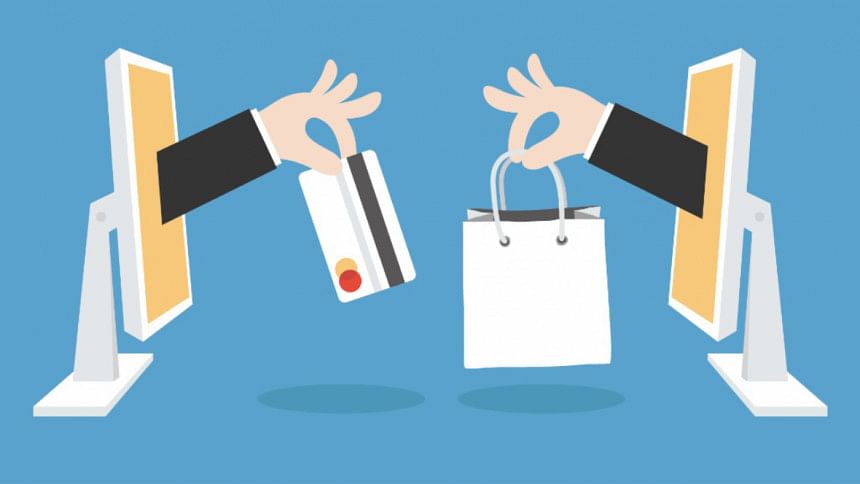 Eid shopping through online platforms reached Tk 120 crore in the first three weeks of Ramadan thanks to the growing popularity of e-commerce among consumers across the country.
Compared to last year, the e-commerce industry has posted about 50 percent growth in sales this year, according to AKM Fahim Mashroor, chief executive officer of ajkerdeal.com, a popular e-commerce platform.
The industry's overall order number was about 50,000 pieces from 10th Ramadan to 20th Ramadan, the peak time for e-commerce, up from about 35,000 last year.
Overall sales crossed more than Tk 65 crore to Tk 70 crore in those 10 days and in the rest of the days the industry added another Tk 50 crore, according to Mashroor.
"I am happy about the business," he said.
Deligram, an online shop that has offline order and delivery channels, has got huge response. It received the highest number of orders on May 25 and May 26 and the order has since gradually declined, said Waiz Rahim, CEO of the company.
A third-generation businessman of Rahimafrooz Group, Rahim said mostly fashion items were higher in demand before Eid.
The e-commerce industry has also sold an increased number of digital products such as smartphones and televisions this time.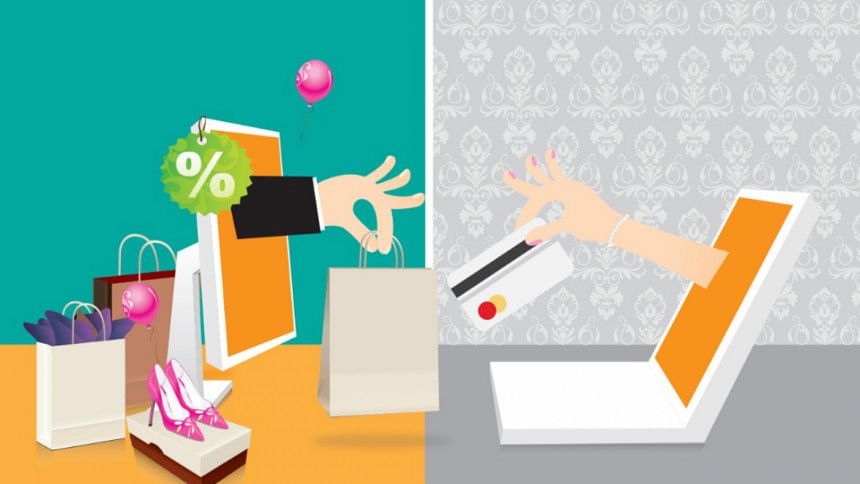 Monir Talukder, chief product officer of Pickaboo, another popular e-commerce platform for smart gadgets, said the company's sales rose three times compared to last year's.
The increasing demand of e-commerce across the country, traffic congestion in the capital and promotional offers from payment systems also played an important role in boosting online sales this Eid.
Like in the past, e-commerce platforms are not being able to cash in on the spending spree in the week to the Eid festival because of delivery challenges and lackadaisical response from merchants. 
As a result, online platforms have not accepted orders since Friday, Mashroor, also a former president of the Bangladesh Association of Software and Information Services.
"Customers can make orders but we are clearly informing them that they will get the delivery after Eid," he said.
Most consumers complete Eid shopping in the last week of Ramadan after getting festival bonus.
Veterans in the industry such as Mashroor say if the delivery system becomes stronger, the business volume will be much higher.
In India, e-commerce order numbers more than 40 lakh to 50 lakh a day. Given the size of the economy and the population, Bangladesh's e-commerce industry deserves to receive at least four lakh to five lakh orders a day, he said.
There are 1,000 e-commerce entrepreneurs in Bangladesh, while another 1,000 run business via Facebook.
The e-commerce market is about Tk 1,500 crore a year and is growing at least by 50 percent, according to the e-Commerce Association of Bangladesh.