Onion farmers stare at losses
Prices fall for arrival of early variety, Indian imports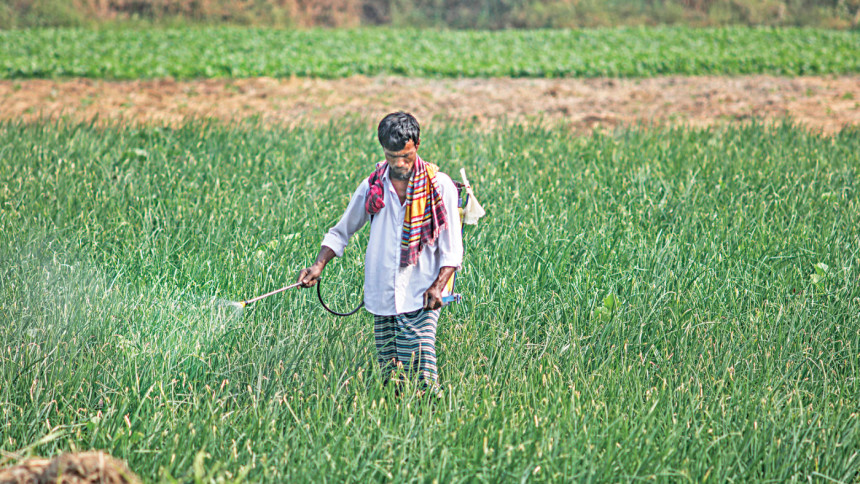 Onion farmers fear losses in the wake of falling prices of the crop resulting from the arrival of early varieties and the resumption of imports from India.
Over the last one week, the prices of the popular item declined as much as Tk 300 each maund in major producing districts-- Pabna and Faridpur.
A maund, or 40kg, of new onions was selling at Tk 1,100-Tk 1,200 at Pabna's Sujanagar onion market, one of the biggest hubs for the root vegetable in the country. In Faridpur, the fresh bulbs were traded at Tk 950 per maund down from Tk 1,250-Tk 1,350 last week, according to farmers and traders.
Farmers say the prices should be a minimum Tk 1,200, and they will incur losses if they have to sell below the level.
Amirul Islam, an onion farmer in Tatipara village of Sujanagar, said he would incur a loss of Tk 5,000- Tk 10,000 for each bigha at the present prices of onions.
"Growers will turn away from onion cultivation if they do not get a fair price. The government should take necessary steps now," said Kamal Sheikh, a grower in Laskardia village under Nagarkanda upazila in Faridpur.
Hashem Sheikh, an onion grower in Adampur village under Faridpur sadar upazila, said they would lose interest in producing bulbs unless they got a fair price.
Farmers have been expanding the cultivation of onions for two years encouraged by the higher prices after India banned exports. Last year, onion acreage grew 18 per cent to 237,000 hectares.
The prices of onion skyrocketed when India banned exports in September last year, pushing the retail price in Bangladesh to as high as Tk 110 a kg on September 16, according to the Department of Agricultural Marketing.
The prices had jumped to a record Tk 250 a kg in 2019 after a similar Indian ban.
The Department of Agricultural Extension (DAE) has targeted to bring 249,000 hectares under onion cultivation in the current fiscal year.  
Farmers planted early onions on 65,000 hectares, up 8 per cent from a year ago, according to the DAE data.
"We want to bring 184,000 hectares under onion seedling cultivation this year," said DAE Director General Md Asadullah.
Farmers and agriculturists say the cost of planting onions rose this year because of the higher cost of seeds. And the decline in prices would increase the risk of losses of farmers.
Abdur Rashid, a wholesaler in Sujanagar, said the prices of the key cooking ingredient dropped in recent periods owing to the increased supply resulting from the arrival of newly harvested bulbs and the resumption of imports from India.
New Delhi lifted restrictions on onion exports last month and imports began earlier this week.
Growers have to spend nearly Tk 800 to produce one maund of onion, according to Shailendra Nath Mozumder, principal scientific officer of the Spice Research Centre under the Bangladesh Agricultural Research Institute.
He said the government should take measures to protect farmers. "Some import duty may be imposed so that prices do not fall because of an increase in imports."
Imports should be barred from March to May, the harvesting period, he added.
The commerce ministry has requested the National Board of Revenue (NBR) to impose import duty on onions.
Contacted, a senior official of the NBR said the revenue board was yet to take any decision to this effect.
Currently, there is no duty on onion imports.
Our correspondents in Pabna and Faridpur contributed to the report.