Mobile phone assembly picks up momentum
23 lakh locally assembled sets hit market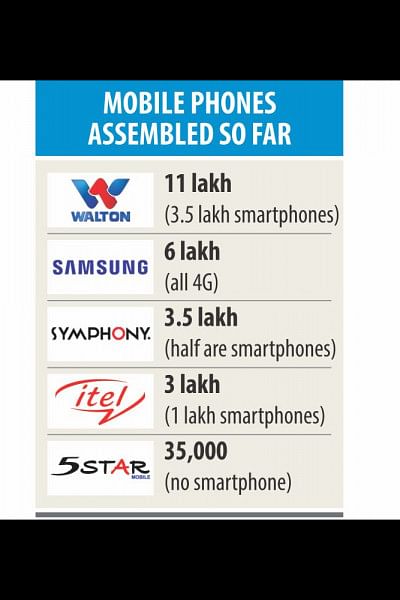 Local handset plants churned out 23 lakh units in 2018, with the government's policy that compelled importers to set up plants in the country looking to bear fruit.
"This development needs to be highlighted for Bangladesh," Mustafa Jabbar, telecom and ICT minister, told The Daily Star.
So far five plants have started rolling, while a good number of local and international brands are in the process of setting up new factories, thanks to the duty structure designed to discourage imports.
Currently, there is 32 percent tax on handset import. The tax comes down to 18 percent for local assembling, while for manufacturing it is about 13 percent.
"We have targeted to become a digital product producing country from an importing one and I think the start of our journey has been very encouraging," Jabbar added.
Local brand Walton, which was the first to set up a plant in October 2017, sold about 11 lakh units last year.
The assembly line rolled very slowly  initially, but it picked up pace later on, so much that Walton fully stopped importing handsets from July last year.
In the first six months of 2018, Walton had imported about seven lakh units from China.
"We are now fully dependant on our factory's production," said Asifur Rahman Khan, head of Walton Cellular Phone Marketing.
Fair Group, which began assembling Samsung-branded handsets in its plant in Narsingdi from the second half of last year, sold about six lakh units, all of which are 4G-enabled, said Ruhul Alam Al Mahbub, chairman of the group.
"Our plant's performance is quite satisfactory and this year we have targeted to assemble five to six times more."
At present, the plant assembles three lakh units a month.
"Our target is to reduce import volumes gradually," said Mahbub, also the president of the Bangladesh Mobile Phone Importers Association (BMPIA).
Symphony, the market leader, has also set up a plant, the output from which has been added to their imported products in the last two months.
So far, it has sold 3.5 lakh units of locally assembled phones, half of which are smartphones, said Jakaria Shahid, managing director of Edison Group, the parent company of local handset brand Symphony.
Its plant can now assemble two lakh units per month, according to Shahid, also the general secretary of the BMPIA. Chinese mobile phone manufacturer Transsion Holdings has also set up a plant in Gazipur in the second quarter of last year.
So far, it sold three lakh units of itel-branded handsets, of which one lakh are smartphones.
"We have a very big dream for our plant," said Rezwanul Haque, chief executive officer of Transsion Bangladesh.
The first target is to cater to the local market, after which export opportunities will be explored, said Haque.
Transsion has another brand Techno, which will also start assembling at the plant soon, he added.
Al Amin Brothers, a local company that has been importing handsets for over two decades, set up its plant in Gazipur near the National University investing about Tk 30 crore.
It started assembling "5 Star Mobile" brand two months ago and from December started rolling out the handsets in the market.
In the first month it has distributed 35,000 units of four different models, all of which are feature phones.
"We are getting huge response from the market," said Md Oliullah, the company's managing director, adding that smartphones too will be assembled in the plant.