Maize import soars as floods, rains damage crops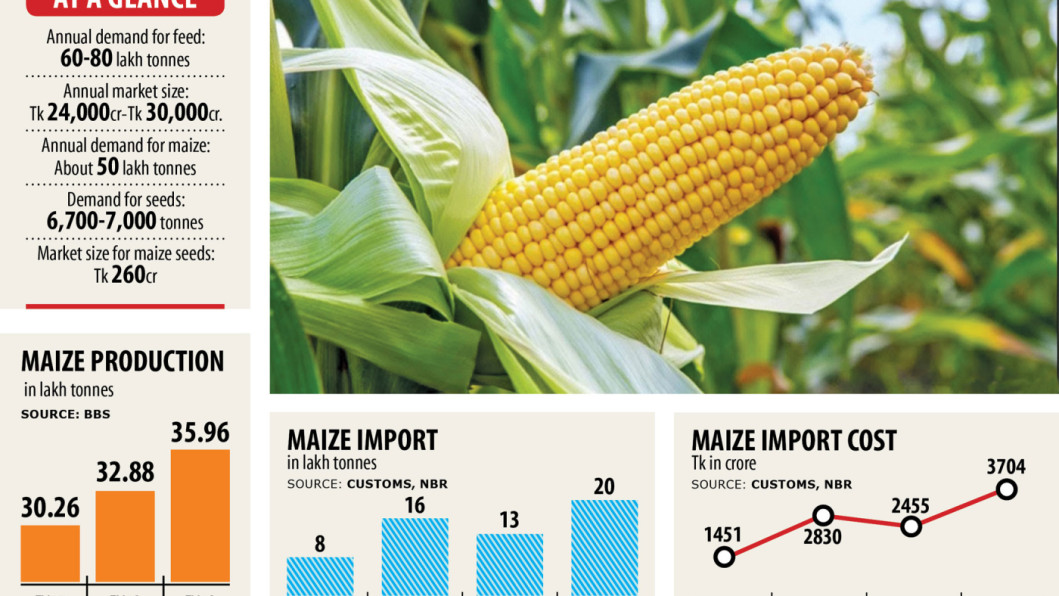 Maize imports rose by 54 per cent last fiscal year in the wake of crop losses for heavy rainfall and flood during the peak harvesting and drying periods of the summer crop, according to feed millers and import data.
Bangladesh brought in 20 lakh tonnes of maize worth Tk 3,700 crore in fiscal 2019-20, up from 13 lakh tonnes worth Tk 2,450 crore in the previous year, according to customs data.
"It appears flood has damaged 25-30 per cent of the crop while unfavourable weather has also affected drying of the grain needed to make feed," said Moshiur Rahman, president of Bangladesh Poultry Industries Central Council.
The Department of Agricultural Extension estimated that farmers produced 54 lakh tonnes of the grain last fiscal year.
However, feed millers, the main user of the grain, disagreed and said the figure does not reflect actual scenario.
The Bangladesh Bureau of Statistics (BBS) is yet to release its estimate on production of maize, which was once little known to farmers. Today, maize is the second-biggest grain crop after rice.
Over the past decade, many farmers switched from other crops to the cultivation of maize to profit from burgeoning demand from mills.
Local mills annually produce nearly 60-70 lakh tonnes of feed to cater to the gigantic poultry, aquaculture and dairy sectors.
Including use by farmers and the unorganised sector, total yearly demand for feed is 80 lakh tonnes and the annual market size would be Tk 24,000 crore to Tk 30,0000 crore, said Md Ahsanuzzaman, general secretary of the Feed Industries Association of Bangladesh (FIAB).
Poultry farms are the main consumers of feed and maize accounts for 50-60 per cent of the raw material of the feed, said millers.
Farmers were not able to dry the maize properly due to incessant rain. The problem still persists, said FIAB President Ihtesham Shahjahan.
A large portion of the crop has also been stocked at different stages of the supply chain. The amount of carryover stock was also low last fiscal year, said Ahsanuzzaman, chief executive of joint venture Spectra-Hexa Feed.
Bangladesh is importing maize from India and Brazil, he said.
Rahman, also managing director of leading feed maker Paragon Group, said his firm had to go for urgent imports from India to make feed. "We did not have to import from India for the last couple of years," he said.
He said the Coviid-19 pandemic and subsequent slump in poultry farming affected demand for feed after March this year.
"Farming has started picking up and the requirement for feed is going to increase in the current fiscal year," he said.
The quality of the locally produced grain was very good and imports take place to meet shortfalls, said Shahjahan, also managing director of another leading feed mill Quality Feeds.
"Poultry industry is still the main driver of feed market followed by aquaculture. Dairy farming is also catching up," he said, expecting the demand for feed to continue to increase for the next 10 years.
The US Department of Agriculture in April this year projected that Bangladesh's total corn consumption would grow 3.7 per cent to 56 lakh tonnes in the May-April period of 2020-21.
Increased demand for maize led to the expansion of the market for seeds which were basically imported from India, said Sudhir Chandra Nath, business director of ACI Seed, a unit of ACI.
Bangladesh's maize seed market is roughly worth Tk 260 crore, he said.
Nath expects the cultivation of winter maize to increase as a section of growers might prefer early maize instead of cultivating aman rice crop this season.