Livelihoods of Bangladeshis at stake in Covid-19 hit Brazil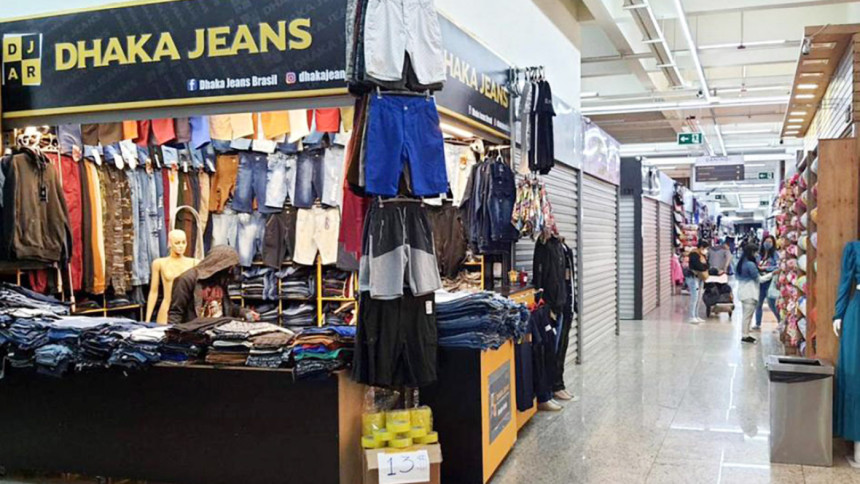 Brazil, the largest South American country, has now virtually turned into a death zone after the devastation caused by the Covid-19 pandemic.
Bangladeshis living in Brazil are passing their days amid fear and struggling to survive. But it is a matter of great relief that the fatality rate among Bangladeshis there is very low.
The Bangladeshi nationals are facing a financial crisis as trade and commerce have come to a standstill in Brazil. Many of them have become bankrupt and are leaving the country.
This situation was evident when this writer tried to gather information about Bangladeshis living in Brazil.
Bangladeshis started arriving in Brazil in the 1980s. But the numbers started increasing much later, according to expatriation organisers. 
Around 20,000 Bangladeshis used to live in Brazil, once. The majority of them migrated to the US in phases over a long period. Around 5,000-6,000 Bangladeshis were in Brazil before Covid-19 hit the country. When the pandemic was taking an alarming turn, many left Brazil.
The accurate number of Bangladeshis infected with Covid-19 in Brazil could not be ascertained. But at least six of them died from the virus, according to Bangladesh Embassy sources in Brazil.
Around 100,000 people died of Covid-19 in São Paulo, Brazil's vibrant financial centre. Of them, three were Bangladeshis.
"In Brazil, it is difficult to understand who is infected and who is not. Everyone is struggling to survive. In such a situation, none got the opportunity to help others," said AHM Khairul Islam, a Bangladeshi trader.
"Bangladeshis don't feel comfortable disclosing the information if anyone is infected. It is our good luck that very few Bangladeshis died here from Covid-19," said Khairul, a popular figure in the Bangladeshi community in Brazil.
According to sources at the Bangladesh Embassy in Brasília, at least 23 of its officials and employees, including the charge d' affaires, were infected.
Of them, seven were admitted to different hospitals. Charge d' Affaires Samia Israt Ronee and Defence Attaché Commodore Syed Misbahuddin Ahmad were in ICU for 11 days as their condition was critical. The embassy's Counsellor Mohammad Abdullah Al Mamun was also hospitalised.
"Now, everyone is well. All the officials and staff have re-joined the office gradually. The embassy's activities are now normal. Services to expatriate Bangladeshis are being provided through mail or postal system instead of physical presence," Mamun said.
The embassy was not closed, though almost all the officials and staff were infected. Its activities continued with the help of only three staff members.
In September last year, a Brazilian chauffeur at the embassy was the first one to test Covid-19 positive. In December, the outgoing ambassador Zulfikar Rahman and his wife were infected and recovered after taking treatment at home.
Bangladesh Embassy in Brazil oversees the diplomacy and welfare of expatriate Bangladeshis living in different countries of South America including Argentina, Venezuela, Bolivia, Paraguay, Uruguay and Chile.
Currently, the embassy's charge d' affaires is acting as its chief after the ambassador was transferred, recently.
Bangladeshi nationals, who live in Brazil, mainly depend on fabrics, clothing and garment trade. But many are service holders and some work in poultry farms, grocery shops and restaurants.
 Around 2,000 Bangladeshis live in São Paulo.
The economic situation in Brazil is sharply deteriorating since the virus hit the country. Trade and commerce have come to a standstill. People's earnings have decreased drastically and unemployment is skyrocketing. The economic recession has left the people disoriented which is no different for the Bangladeshi expatriates.
"I don't get wages regularly. Furthermore, work opportunity has significantly decreased. But I have to pay house rent and other utility bills regularly. Rather, additional charges have been imposed without any proper reason. The prices of daily essentials are skyrocketing. I am struggling hard to survive here. So, it is impossible to send money to my family back home," said a Bangladeshi expatriate.
Around 90 percent of Bangladeshis, who live in São Paulo, are involved in the fabrics and garments trade. Some are retailers and some are wholesalers. Some Bangladeshis own garment factories there.
Fabrics and garments items are being supplied all over Brazil from here. But many of these Bangladeshi businessmen have become bankrupt due to the pandemic.
"Peoples' buying capacity has decreased. Although our sale went through a downturn, our business expenditure has shot up," said AHM Khairul Islam, a trader.
"There were around 5,000 garment stores in São Paulo. But the number has now come down to around 2,000. My garment factory was closed for around eight months and I had to incur a loss of around Tk 35 lakhs," he added.
"A major number of Bangladeshis had to leave Brazil amid the pandemic's second wave. Some had left permanently, while some others have gone to nearby countries," said Khairul.
Another Bangladeshi, Md Alamgir, who hails from Gazipur, runs his business at a shopping mall in São Paulo.
"I have two shops. But I have been incurring a loss of around 8,000 Brazilian real every month," he said, adding that one Brazilian real is equivalent to Tk 16 in Bangladeshi currency. 
"Before the pandemic, I used to earn profit and could send around Tk 2-2.5 lakh to Bangladesh every month," he added.
Farhad Bhuiyan, who hailed from Cumilla, runs a clothing business at Espírito Santo state and Minas Gerais state. He had to shut down two out of his five shops. He now plans to shut the rest as he is incurring losses.
"We are struggling hard to survive without help from others. It is unfortunate that Bangladesh does not know what kind of sufferings we are facing. But we think about our country and we send remittance," said Shamsul Haque Khan, who hails from Habiganj, now living in Londrina city of Paraná in Brazil.
Ezaz Mahmud is a freelance journalist.