IPDC on a roll
Innovative business models paid off, says its managing director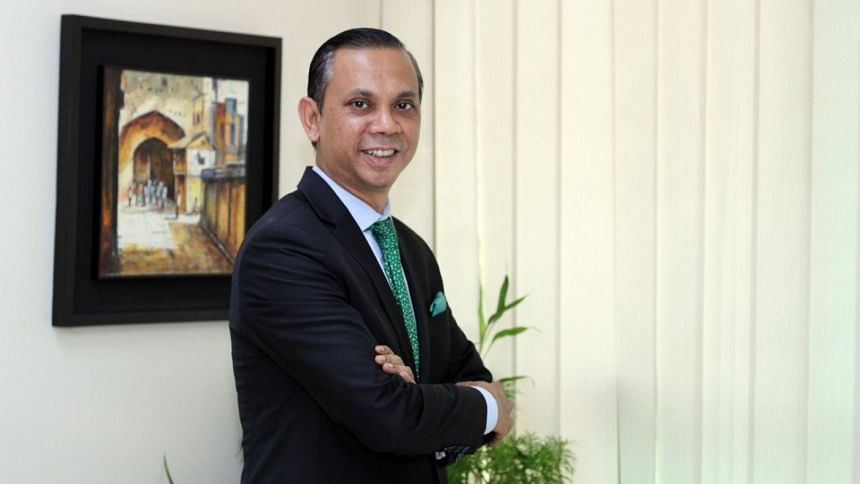 When a majority of financial institutions are struggling with default loans and a lack of corporate governance, IPDC Finance Ltd has achieved stellar success by rolling out a raft of successful business models.
"The success story of IPDC is an example for the entire financial sector," said Mominul Islam, managing director of the non-bank financial institution.
IPDC's journey was not smooth.
When Islam joined IPDC as the head of operations in 2006, its classified loan stood at 37 percent. It did not have proper corporate governance related model, risk management framework, technological module and dedicated loan recovery unit.
Since then, the country's first private sector financial institution has grown from strength to strength by improving the whole system.
"Time-befitting initiatives and visionary targets have helped the NBFI become a good one," Islam told The Daily Star in an interview.
The classified loan now stands at only 1.20 percent of its total outstanding loans of Tk 4,700 crore, far below the NBFI sector's average NPL of 10.50 percent.
The volume of loans and deposits rose to Tk 4,432 crore and Tk 3,707 crore respectively in December last year, up from Tk 567 crore and Tk 399 crore four years ago.
IPDC enjoyed a healthy net profit of Tk 45 crore last year, up 34.16 percent from a year ago and 172 percent from four years earlier.
The NBFI has now decided to go big in the housing sector with a view to bettering its success, by providing loans to underprivileged clients living in the remotest parts of the country.
IPDC will increase its home loan to Tk 3,500 crore in contrast to around Tk 700 crore disbursed as of March this year.
"The country has enjoyed huge improvement in food sufficiency, education and healthcare, but a well-furnished home is pretty much missing from the achievement," Islam said.
Islam, who has been serving the lender as managing director since 2012, said the majority of the lenders in Bangladesh usually offer home loans to the upper class and are focused on two mega cities Dhaka and Chattogram.
As a result, people who belong to low and middle-income groups and live in other parts of the country, have to build homes by using small savings, but the construction faces hiccup because of a shortage of funds.
In most cases, they require 10 to 15 years to build their dream home, meaning waste of time and money.
This prompted IPDC to introduce a nationwide affordable home loan product titled "Bhalo Basha" in February this year.
Clients, who earn a minimum of Tk 20,000 per month, are eligible to apply and take out a loan of Tk 50 lakh at an interest rate of 9.99 percent. The repayment tenure is a maximum 25 years.
IPDC has started to lend to people living outside of Dhaka and Chattogram. People from the lower middle-income group such as school teachers, nurses, and security guards will turn into our core clients if the roadmap is implemented. 
"The initiative has received positive response and it will help expand IPDC's business," Islam said.
According to Islam, fund diversion is one of the key reasons behind the increasing default loans in the banking sector in Bangladesh, prompting IPDC to give full efforts to prevent the tendency and to pull off the success by establishing a strong monitoring cell.
The lender is now giving special attention to developing new women entrepreneurs as only 3 percent of the SME loans usually goes to them.
Women's presence in the formal job sector is only 14 percent whereas 33 percent of the university students are female.
Last year, IPDC launched a dedicated credit product for women entrepreneurs named 'Joyi', which offers a maximum finance of Tk 50 lakh at an interest rate of 8 percent with a repayment period of one to five years.
"We want to disburse 30 percent of our total loans to women entrepreneurs by 2030. We have already taken several initiatives to materialise our plan," said Islam, who completed BBA from the Institute of Business Administration of Dhaka University.
IPDC is still focusing on the SME sector as it has a great role in generating new jobs and 30 percent of its total outstanding loans have so far given out to the small and medium entrepreneurs.
Under the SME credit programme, it rolled out a digital supply chain financing product titled 'Orjon', enabling entrepreneurs to get a variety of short-term loans in the field of factoring, reverse factoring, work order and distributor financing. The product carries an interest rate of 11-14 percent.
Islam underscored the need to develop a vibrant bond market in Bangladesh as it is highly difficult for banks and non-banks to give long-term loans based on short-term deposits.
"We are working with the Bangladesh Bank and the Bangladesh Securities and Exchange Commission to this end as a lively bond market must help ease liquidity pressure on banks and NBFIs," he said.
Islam also touched upon the existing crisis in the financial sector, saying managements of banks and NBFIs should be allowed to operate freely.
"Boards should understand that banking and finance is not like other business. If proper management does not prevail, governance will face problem."