Saluting our unsung women heroes
Support these silent doers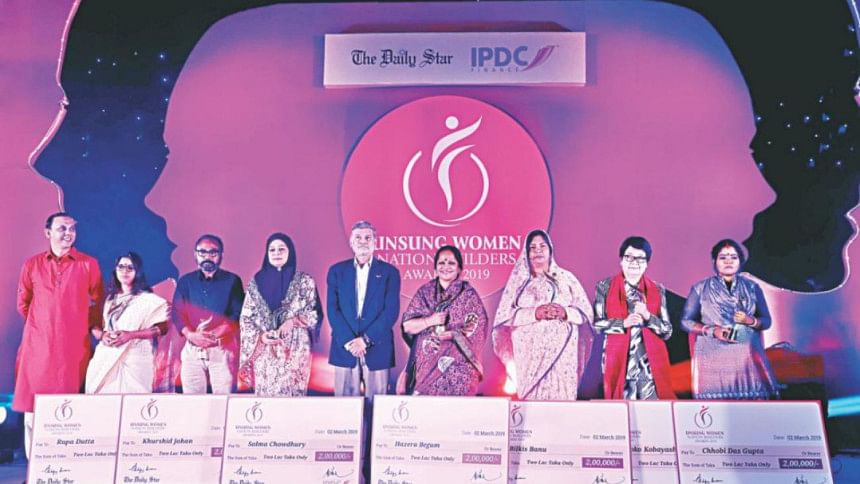 We are humbled and honoured to have co-hosted with IPDC Finance Limited an event yesterday that is unique in its spirit and message to the world. It was to recognise seven remarkable women who have been quietly initiating positive change in society. They are not prominent women, some of them have never had the opportunity to study, and have personally gone through a lot of hardship and trauma. Yet their courageous spirit and irresistible urge to help others have made them achieve incredible deeds. The "Unsung Women Nation Builders Awards 2019" was indeed an inspiring event that demonstrates how women have been contributing to nation-building without any expectation or self-interest.
Among the awardees this year was late freedom fighter Khurshid Jahan, who was a young mother in 1971 when she joined the Liberation Movement and helped to treat wounded Freedom Fighters and collect intelligence for them. Hazera Begum grew up in the streets as a child and was later forced into prostitution in order to survive. But this did not stop her from establishing a child development centre for about 50 street children, providing them with food, shelter, education and love. The other recipients of the award are also awe-inspiring: Japanese philanthropist Hiroko Kobayashi financially supported 100 Bangladeshi girls to complete their school and college degrees; Bilkis Banu established an orphanage with personal funds that is home to 75 children; Chhobi Dasgupta who started working in a garment factory at age 12 is now an entrepreneur and has her own garments factory, employing more than 100 employees; Rupa Dutta raised funds to expand a school for Mro children and also set up a hostel with the help of donations; Salma Chowdhury, founder of ASHIC, an NGO dedicated to helping children with cancer.
Like the previous recipients of this award, these women have shown the real spirit of humanity through their incredible selflessness. It is something we can all learn from and be inspired to play our part in building this nation. We hope that the government as well the affluent in the society would come forward and support these exemplary efforts.