Inflation rises slightly in Feb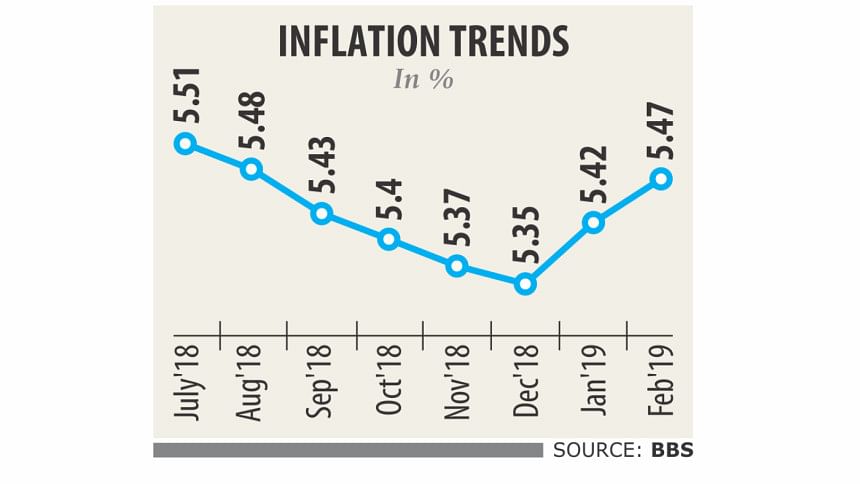 Inflation rose slightly for the second consecutive month in February due to an increase in food prices in rural areas.
In February, inflation stood at 5.47 percent, five basis points higher from 5.42 percent in January, according to the Bangladesh Bureau of Statistics. Planning Minister MA Mannan released the data yesterday.
Inflation rose in January, for the first time in the last 16 months, due to a hike in food and non-food prices.
Inflation had been declining gradually since September 2017 when it stood at 6.12 percent.
In February, food inflation went slightly up to 5.44 percent from 5.33 percent a month ago.
However, non-food inflation declined 6 basis points to 5.51 percent from 5.57 percent in January, the BBS data showed.
"Inflation edged up marginally in February due to an increase in food inflation in rural areas," said Zahid Hussain, lead economist at the World Bank's Dhaka office.
Non-food inflation declined, reflecting some post-election easing of demand pressure, he said.
With Aman harvesting season over, rice prices in rural areas are likely to have increased, thus resulting in higher food inflation, he added. 
Food items account for about 46 percent of the urban inflation and 61 percent of the rural one. In case of food inflation, prices of rice play a major role.
Prices of rice had begun to shoot up before the December 30 general election and continued the momentum after the election. Rice prices rose by Tk 2 a kilogramme owing to a disruption in the supply chain because of the 11th general election.
According to the BBS data, food inflation in rural areas increased 20 basis points and stood at 5.48 percent in February from the previous month. However, in urban areas, inflation declined 5 basis points and stood at 5.38 percent, according to the BBS. Non-food inflation in both urban and rural areas declined.
In rural areas, non-food inflation fell 3 basis points and stood at 4.86 percent when in urban areas it dropped 11 basis points to 6.39 percent.