India may review anti-dumping duty on jute goods
Secretary level meeting ends today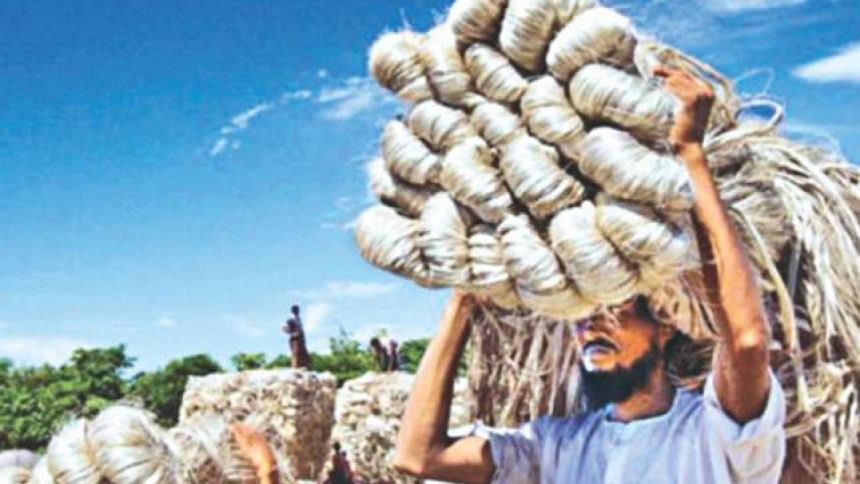 India has assured that its anti-dumping duty on jute goods of Bangladesh might be reviewed as per the latter's plea, said a senior commerce ministry official of Bangladesh.
The assurance came yesterday after a two-day commerce secretary-level meeting between the two countries at InterContinental Hotel in Dhaka. The official, asking not to be named, was in the Bangladesh delegation.
The delegations were led by Anup Wadhawan, Indian commerce and industries secretary, and Md Jafar Uddin, Bangladesh's commerce secretary, respectively.
Anti-dumping duty has been one of the widely discussed bilateral trade issues for the last couple of years.
India wants Bangladesh to reduce subsidy on jute while the latter wants the anti-dumping duty's withdrawal.
At the meeting, Bangladesh demanded signing of a comprehensive economic partnership agreement (Cepa) between the two within the next six months, said the commerce ministry official.
However, India sought more time for the Cepa as a consensual feasibility study was ongoing, he said.
Both want to sign a Cepa rather than a free trade agreement (FTA) foreseeing higher bilateral trade and investment and mutual recognition of sanitary and phytosanitary certifications, intellectual property rights issues, testing and transportation of goods, employment and border issues.
Only signing an FTA will not cover all these because both are interdependent on global value chains in connection to some important business.
India is not only a major source of cotton, yarn and textile chemicals but also foreign direct investment for Bangladesh, standing as its second largest import destination after China.
Bangladesh annually imports over $8 billion worth of goods from India through formal channels and it is believed that an equal amount is smuggled in through informal ones as the duo share a border of over 4,000 kilometres.
In yesterday's meeting, the Bangladesh delegation also raised complaints over a newly formulated Indian customs rules, saying shipment of goods to the neighbouring country was being affected.
India also asked Bangladesh to raise value addition to at least 30 per cent on export of edible oil.
Currently, Indian customs are reluctant to accept the Export Promotion Bureau's certification on export of edible oil as the value addition does not reach a 30 per cent threshold.
The Indian side said the current level of value addition on edible oil from Bangladesh was nearly 20 per cent, said the meeting source.
A commerce ministry statement said the delegations also discussed tariff and non-tariff duties, increasing the number of border haats and regional connectivity, expanding bilateral trade and progresses made through previous meetings.