Hatil brings robot carpenters
Spends Tk 200cr to renovate its factory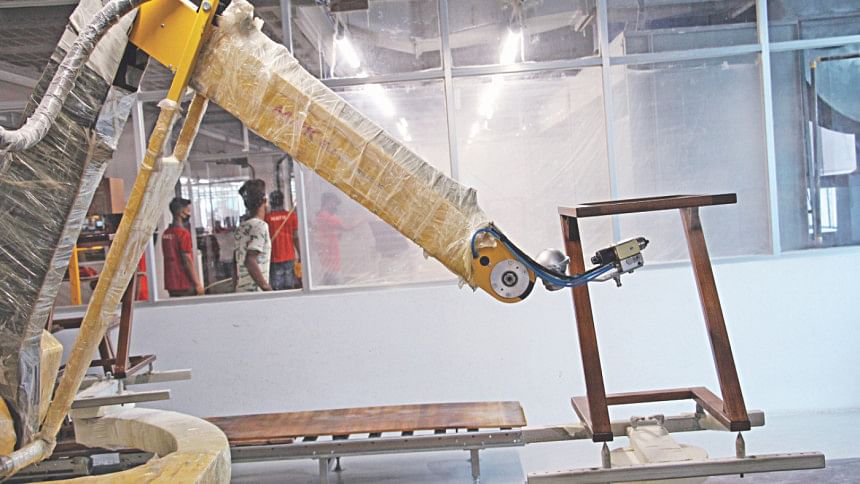 Hatil has invested over Tk 200 crore to renovate its Zirani Bazar factory in Savar with state-of-the-art machinery, including automated robotic systems, in an attempt to take its growing global popularity to newer heights.
The additions led to increased technological dependence for the 20-acre plant but that did not translate into job cuts, much to the relief of around 2,300 human employees of the company, rather it doubled production.
The tech includes a robotic arm for lacquering, computer-aided design machinery and curing equipment using ultraviolet light. Most of the fund came as loans from HSBC, Mutual Trust Bank, Prime Bank and others. 
"…a perfect combination of man and machine," describes Firoz Al Mamun, head of sales and marketing at Hatil.
Inaugurated by the company's chairman and managing director, Selim H Rahman, on Saturday, the Zirani Bazar factory would create furniture and woodwork under three broad categories: home, office and door.
Hatil's primary raw materials are timber of red oak and beech trees imported from Germany, Italy, Japan and the US alongside fabric from China.
In turn, its products reach customers around the globe, in part through 17 franchisee showrooms in India, Nepal, Bhutan and Canada which were opened over the last couple of years.
Customers in the US, Egypt and Middle East also get those through a US-based furniture company. Another eight showrooms will be opened in India soon and one in Malaysia in a few months.
In 2018, Hatil's overall sales amounted to around Tk 250 crore, including Tk 15 crore from exports, which soared over 100 percent year-on-year. Mamun says they were targeting to take this to Tk 400 crore this year.
Over Tk 12,000 crore-worth furniture is sold in Bangladesh, of which only 10 percent are of brands.
Hatil is the leader in Bangladesh occupying around 25 percent of the market. The other major brands include Otobi, Partex Furniture and Akhtar Furnishers.
The company says its products have been certified by Germany-based international non-profit Forest Stewardship Council, meaning those came about through responsible forest management.
"We operate our factory in a way that decreases impact on the environment, prevents contamination and protects the atmosphere and resources," said Shamin Razib, manager of international marketing.
Founded in 1989, the company says it brings pride and joy in representing Bangladesh abroad through exports, especially in neighbouring countries.
Dewan Atif Rashid, business development adviser, said they were never satisfied and always looked for ways to bring new and unique products while incorporating world's best practices.
Mashiur Rahman, director marketing, was present at the opening ceremony.