Grooming industry in an anxious wait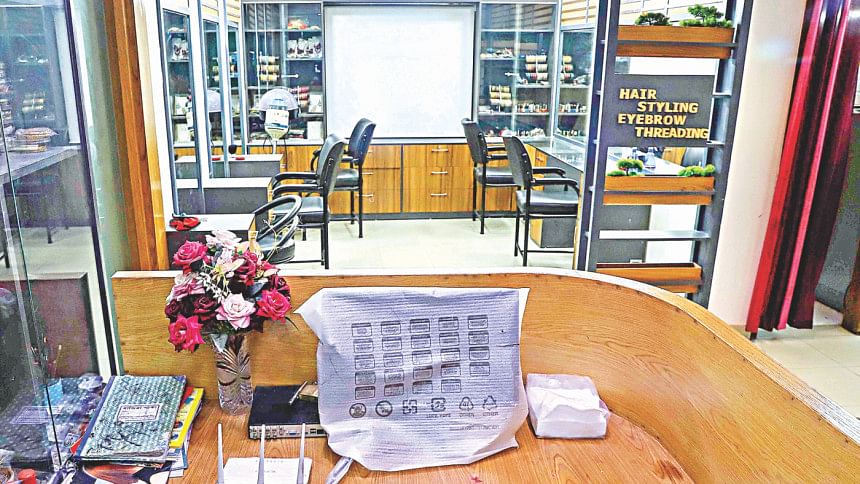 The existential question confronting many right now: how do you look put together when even simple grooming could spread the virus?
With the novel coronavirus threatening to wreck havoc on the country's healthcare system, the government on March 23 ordered nonessential businesses -- salons, barbershops, nail parlours and gyms among them -- to close their doors to slow the outbreak's spread.
This has left many -- like Mofizur Rahman Palash, an assistant commissioner of Dhaka Metropolitan Police -- to do the job themselves, often to disastrous results.
As a member of the disciplined force, he needs a tidy appearance at all times, but his overgrown hair amid all shuttered barbershops is making it difficult. So now, he is planning to do it himself.
But Md Muktadir Rashid, a resident of capital's Mirpur 1 area, close to handing over a pair of scissors and trimmer to his wife.
"The mercury is rising, so I badly need a haircut," he said, adding that even if his wife messes up his hair the ongoing movement control order means not many would get to witness it.
But for the myriads of personal-care workers and establishment the pandemic is turning out to be a source of grave concern.
Even though Bangladesh did not announce its maiden cases until March 8, the damage to their business began from the beginning of this month.
"Given the looming threat of coronavirus and the nature of our service, which needs working in proximity, panicked clients stopped coming," Taslima, manager at Farzana Shakil in Gulshan 1, told The Daily Star last week.
Clients were avoiding doing facials and body massages as those involved close human contact, said Juthi, manager of Women's Care in Banasree.
But now, many are wondering how long they can afford to keep their business running without customers.
"From next month, it would be a challenge to make a living," said Ruksana Aktar Nipa, an employee at Red Beauty parlour in the capital's Banasree, said business in all three branches in the capital are closed from March 22.
Md Hossain, manager of Adonis in capital's Dhanmondi, a salon for men, echoed the same.
"We just shut our business for the safety of our staff and customers. We paid the salary of our all 11 staff for this month. I don't know what will happen next month," he added.
But for those who are willing to make house calls, this is boom time. Many say their phones are buzzing with texts and calls from clients.
One such person who is taking grooming services is Afsana Ali, a resident of Gulshan. Yesterday she phoned an employee at the beauty salon she frequents to come to her house to do her nails.
"With nails, of course it's not the end of the world if you don't have it. But if they don't look good and they're not kept up, it's kind of like mental health status, you know? You look down and it's like, 'Everything's falling apart, and my nails are falling apart'," Ali said.
But the employee she called had no free time for the next two days: her days were choc-a-bloc with requests.
Tipra Chakma, who works in a beauty parlour in Gulshan, is going over to her salon's regular clients' houses for haircuts, facials, manicures and pedicures, and massages.
When Chakma was informed of the possibility of contracting the deadly virus from doing such house calls, she shrugged it off. "People are serious about getting their hair done. The money is good -- how can you say no?"