Govt support needed to popularise crop insurance: experts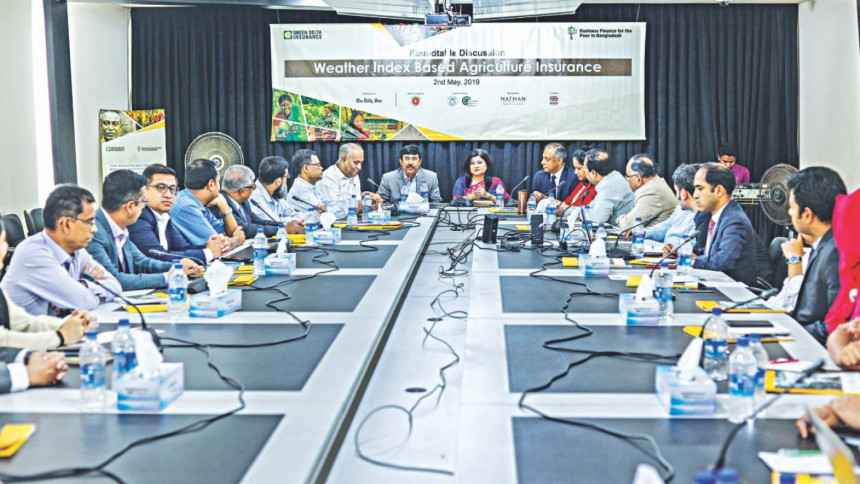 Crop insurance may not be successful in Bangladesh if the government doesn't extend support and awareness among farmers is not raised, said experts yesterday.
Costly weather data and people's lack of trust in insurers are also holding back crop insurance from reaching its potential, they said.
"Crop insurance is very important for the growth of the agricultural sector as natural disasters are very common in Bangladesh and they impact farmers," said Farzana Chowdhury, CEO of Green Delta Insurance.
Her comments came at a roundtable jointly organised by Green Delta Insurance and the Business Finance for the Poor in Bangladesh (BFP-B), a programme of the UK's Department for International Development to promote micro and small enterprises, at The Daily Star Centre in Dhaka.
Chowdhury said crop insurance is costly in Bangladesh as weather data are not available and the data have to be collected from international sources.
Chowdhury called for raising awareness among farmers so that they have trust on insurers.
"Confidence on the insurers is very meager and it is a very big impediment to spreading crop insurance."
Gokul Chand Das, a member of the Insurance Development and Regulatory Authority, said the experience of crop insurance in Bangladesh is not pleasant.
He gave an example where an insurer had to pay more on claims related to crop insurance that were higher than it collected in premium.
"We have to develop a fair policy or model at first in order to ensure a win-win situation," he added.
Green Delta began a pilot project on weather index-based crop insurance in 2016. The project ran in nine locations, insuring close to 10,000 farmers in seven crops.
In a presentation, Muhymin Chowdhury, deputy challenge fund manager for the BFP-B, said the high cost is restraining willingness and ability to offer customer value.
An open source weather data platform supported by the Bangabandhu Satellite can be developed by the Bangladesh Meteorological Department, he added.
He called for VAT waiver for the next five years to enable insurance companies to achieve viability faster.
Ajit Kumar Paul, additional secretary at the financial institution division of the finance ministry, said if the coverage of the crop insurance can be widened, the government's expenditure might go down.
This is the right time to bring the VAT issue to the table as the budget is just knocking on the door, he said. Ali Tareque Parvez, deputy senior vice president of Green Delta Insurance, and Feisal Hussain, team leader of the BFP-B, also spoke.